AI The Cat is Neko and Maka's younger sister (Toy Neko) but her nickname was AI since they sometimes got Neko and Neko 2.0 mixed up a few times.
Name
AI means love in Japanese
Appearance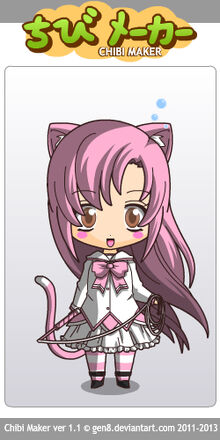 As seen below AI instead of wearing the usual tie wears a sailor neck tie.She also wears a Skirt Similar to Madoka's ( Madoka Magica)
Occupation
Translating Neko's singing (in Japanese) to English
Ad blocker interference detected!
Wikia is a free-to-use site that makes money from advertising. We have a modified experience for viewers using ad blockers

Wikia is not accessible if you've made further modifications. Remove the custom ad blocker rule(s) and the page will load as expected.