---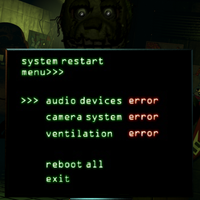 "The systems are in need of rebooting."
This article is a stub. Please help by editing and adding more information to the page. However, you must have permission from the creator of the page, unless you are that said creator, then edit to your heart's intent!
---
Alfred Sapient is one of the four main antagonists of Five Nights in the Museum and Five Nights at the Museum 2. He, along with The Fugga Knight and Marilyn, builds the Face of the Museum.
At they day he guides to people trough the Zoo Exhibition Room, but in the night he roams the halls of the Museum to kill the Night Guard.
Appearance
Alfred is a brown coloured animatronic, with an light-brown snout and an black nose. His Ears have lost their stability and hang loosely from the animatronic head. He has the longest arms and legs of all the animatronics.
His body is very similar to the Fugga Knight, but with larger arms and legs.
Behavior
First Game
Alfred starts with The Fugga Knight and Marilyn at the Central Hall. He immeadly starts as the first, and tries to go trough the west part of the Museum, to kill the night guard.
He moves faster than any other animatronic, he stays not long at the door, in the later nights he begins later, most when Marilyn left the room, to move.
Backstory =
He was invented during the 40s by Oswald R. Bowen, to help children who lost their parents in the cold war.
Trivia
Altough the Doctor's Room is located in the West Hall, he cannot enter it.
In the Souvenir Room several chips bag with his name can be seen.
Ad blocker interference detected!
Wikia is a free-to-use site that makes money from advertising. We have a modified experience for viewers using ad blockers

Wikia is not accessible if you've made further modifications. Remove the custom ad blocker rule(s) and the page will load as expected.