Ad blocker interference detected!
Wikia is a free-to-use site that makes money from advertising. We have a modified experience for viewers using ad blockers

Wikia is not accessible if you've made further modifications. Remove the custom ad blocker rule(s) and the page will load as expected.
---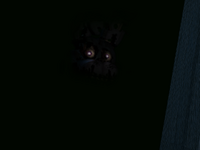 It could be there...
This article is a stub, please fix it by expanding its content, aslong as you have permission from the creator, unless this is your page, then go ahead and edit to your delight!
---
aussie australia is a dingo animatronic who seems scary, but has a big heart once you get to know him. he is a pacifist animatronic and a reference to guess who.
Personality
Edit
aussie is a kind, loving, pacifist animatronic who is very loud and outgoing
appearance
Edit
Aussie looks like a humanoid dingo with one broken ear and his tongue sticking out of his mouth. he wears blue glasses and has long black hair like ozzy osbourne.
relationships
Edit
Foxy -- aussie hates foxy because of his ruthless behavior
Bonnie and Freddy -- aussie respects freddy, but feels utterly terrified of bonnie
Chica -- aussie and chica are friends with each other, but chica's disturbing facial structure initially made aussie uncomfortable
Aussie was originally a kangaroo
Aussie's entire body is based of fanart of hatchet his creator made
he was inspired by ozzy ocelot's name