Ad blocker interference detected!
Wikia is a free-to-use site that makes money from advertising. We have a modified experience for viewers using ad blockers

Wikia is not accessible if you've made further modifications. Remove the custom ad blocker rule(s) and the page will load as expected.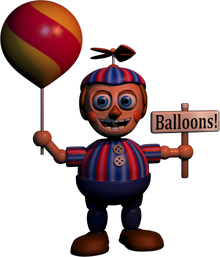 This is a parody of Safe and Sound. It was created a while back and is created by ElChupacabraoftheSnow. All rights are reserved. And yes, it kinda sucks......
I could stop power
I could distract what Ol' Jeremy sees
And take you to the big office (Animatronic scream)
I could be first mate
Even if this guy is shining light
I know that you'll keep Balloon Boy
I'm Balloon Boy
I could laugh for you
You know my giggles will announce that
This office is now too vulnerable
You could be OP
Even if I am in the air vent 
I know that you'll need Balloon Boy
Balloon Boy
I'm Balloon Boy
Balloon Boy
Need Balloon Boy?
Balloon Boy
I'm Balloon Boy
Balloon Boy
I could freak him out
I can make him put on Freddy's mask
You'll still come jumping right by me
I could be scary
Even if I'm close being in air vents
I know that you'll need Balloon Boy