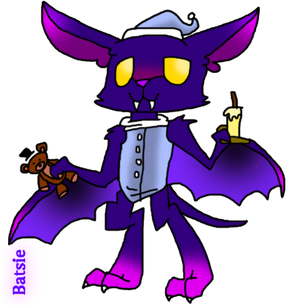 Batsie is a bat animatronic who would hide in a hole in the ceiling and "sleep" by shutting his eyes, but he has heat sensors to allow him to know if a child is approaching so he can "wake up" and greet them. Batsie wears a night cap (old style stuff) and a button pajama shirt. He was made to help kids to not be afraid of the dark, and he would tell them stories, some nursery rhymes, or quietly "hum" a song to himself. He's very top-heavy, especially from his big head. Batsie doesn't have pupils, but a brighter spot on each eye shows where he's looking. He was never a bad animatronic, because he wasn't possessed by a ghost then.
The picture displayed here is what he used to look like, before what happened...
Now his left eye is broken and cracked, there's a tear in his torso, and some other shreds on him. He's still functional, but he behaves alot differently.
He has a somewhat relation to Splashie and Gully [acquaintances].
[I'm going to type a story with this character, so you can get a better look on him and the other 2 animatronics.]
Ad blocker interference detected!
Wikia is a free-to-use site that makes money from advertising. We have a modified experience for viewers using ad blockers

Wikia is not accessible if you've made further modifications. Remove the custom ad blocker rule(s) and the page will load as expected.