Beautiful Lie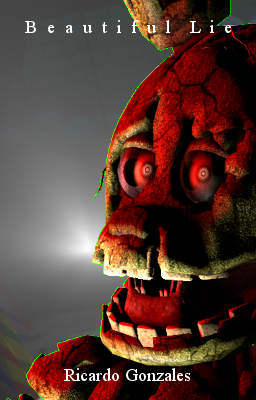 Beautiful Lie is a FNAF novel set in an alternate universe between FNAF 4 and The Silver Eyes. It is scheduled for release on May 15, 2016. Set in 2013, the novel is about Inspector Blake Carter and her investiagtion team spending five nights at Freddy Fazbear's Pizza, hoping to solve the Missing Children's Incident. Soon, they discover a poltergeist in the form Springtrap, a deteriorated rotten gold animatronic with human organs and a dead body inside. They discover Springtrap did the murders, and then they must use their skills to survive the night, but as soon as Inspector Carter becomes oblivious to The Joy of Creation, something else lurks within. Something worse than the poltergeist himself, something more like a demon taking the form of a certain Puppet.
Ad blocker interference detected!
Wikia is a free-to-use site that makes money from advertising. We have a modified experience for viewers using ad blockers

Wikia is not accessible if you've made further modifications. Remove the custom ad blocker rule(s) and the page will load as expected.