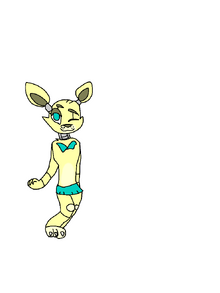 Carla is a animatronic cheetah in the resturaunt called Bobby's Burgers. She works as the cheese melter in the pizzaria. Her counterpart, Toy Carla, takes revenge and tries to shut down and destroy Carla, but her friends Bobby the Beaver, Annie the Alligator, and Winston the Walrus stop her. They destroy Toy Carla instead, Toy Bobby, Toy Annie, Toy Winston beat up the original three. Carla dodges the toys and destroys them. Bobby, Annie and Winston are badly dismantled and are fixed later on. It took hours for them to activate. After a short second, they had memory loss and could not remember Carla. A hour later. They began to remember her. She was a loved animatronic until 207X. She lasted for lots of years, Carla was destroyed and mangled and left to rot. She only had her endoskeleton. The toys remained in a shared toy box.
Ad blocker interference detected!
Wikia is a free-to-use site that makes money from advertising. We have a modified experience for viewers using ad blockers

Wikia is not accessible if you've made further modifications. Remove the custom ad blocker rule(s) and the page will load as expected.