---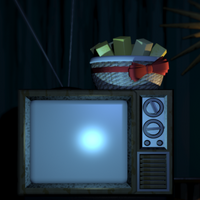 "Thank you for selecting: Exotic Butters"
This page is a joke page, which means it's not meant to be taken seriously at all. Joke pages are typically silly dumb ideas that'd never work or ideas that aren't meant to be taken seriously at all.
---
Chicken is a Chicken
Appearance
Chicken is an animatronic. Chicken strangely looks like a duck. Chicken carries a miniature cake with eyes. Chicken has three hairs on her head. Chicken is yellow. Chicken wears an article of clothing stating "We shall dine".
Backstory
After two animatronics, the company decided to make another. They created Chicker. Chicken performed well. Afterwards, The company threw away chickens endoskeleton. They ripped the costume apart.
Ad blocker interference detected!
Wikia is a free-to-use site that makes money from advertising. We have a modified experience for viewers using ad blockers

Wikia is not accessible if you've made further modifications. Remove the custom ad blocker rule(s) and the page will load as expected.