"Uh, along with that Fredzoe animatronic, we have been sold this former Chica animatronic uh that lives in the safe room while Fredzoe lives in the parts room." Phone guy night 4.
Chubby Chicken is an antagonist in Five Nights At Freddy's 6 and Five Nights At Fredzoe's and is Chica's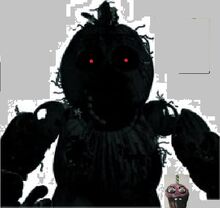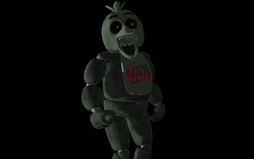 great grandma. Along with Scrappy, she is one of the only phantom animatronics that is real and not a hallucination. She is the first ever Chica model to be made and was made a year after Fredzoe Funbear was made.
Appearence.
She is exactly the same model as Phantom Chica except she is silver and withered. She has red endoskeleton eyes, a ripped bib and multiple cracks and wires sticking out of her. She has a burned texture aswell. She also has a rusty old cupcake, Before she was withered and burned, her bib said "LET'S PLAY!!!".
History.
She was built in 1960 for the first FNAF location, Fredzoe's Fun Diner. Her and Fredzoe sang on stage 'til midnight. The kids loved Fredzoe and Chubby and always played with them. They helped the kids with the arcade games and stuff like that, while the parents enjoyed pizza and wine.
40 years later, the diner caught fire due to the oven malfunctioning and then Fredzoe's Fun Diner was shut down. Fredzoe survived the fire but Chubby Chicken was burned. Luckily, Chubby still worked even though she was burned. After the diner was shut because of the fire, Fredzoe and Chubby were abandoned at a junkyard.
80+ years later, the Ready for Freddy diner opened and found Fredzoe and Chubby at the junkyard. They took Fredzoe and Chubby to the pizzeria. The original idea was to scrap them but Freddy (Scrappy) had made best friends with them so he told the pizzeria workers not to scrap them. So they lived there until the diner closed. Every time there is a new Freddy Fazbear's Pizza, Chubby, Fredzoe and Scrappy move there.
Ad blocker interference detected!
Wikia is a free-to-use site that makes money from advertising. We have a modified experience for viewers using ad blockers

Wikia is not accessible if you've made further modifications. Remove the custom ad blocker rule(s) and the page will load as expected.