<title source="name"><default>Circus Freddy</default></title> <image source="image"/> <title source="title"><default>Circus Freddy</default></title> <data source="firstappearance"><label>First Appearance</label></data> <data source="latestappearance"><label>Latest Appearance</label></data> <data source="creator"><label>Creator</label></data> <data source="species"><label>Species</label></data> <data source="AIlevel"><label>AI Level</label></data> <data source="status"><label>Status</label></data> <data source="location(s)"><label>Location(s)</label></data> </infobox>
---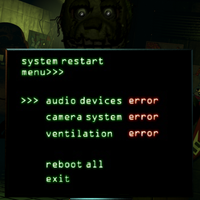 "The systems are in need of rebooting."
This article is a stub. Please help by editing and adding more information to the page. However, you must have permission from the creator of the page, unless you are that said creator, then edit to your heart's intent!
---
Character Info
Circus Freddy is a character that appears in Freddy's Funland. He is a remade version of Freddy Fazbear.
Appearance
Circus Freddy is a dark brown color and has a black mustache put in a swirl. He also has a black tuxedo with red stripes. He holds a black microphone with silver stripes. As usual, he has a bow tie, this time black with brown stripes.
Hallucinations
Zombie Circus Freddy
The Zombie Circus Freddy hallucination has an zombie-looking human version of Circus Freddy. This hallucination may happen when you are killed by Circus Freddy, although it is rare.
Behavior
(Will be added as soon as Freddy's Funland is updated)
Ad blocker interference detected!
Wikia is a free-to-use site that makes money from advertising. We have a modified experience for viewers using ad blockers

Wikia is not accessible if you've made further modifications. Remove the custom ad blocker rule(s) and the page will load as expected.