Clayton Randall Boss
or Clayton R. Boss is an employee in Freddy Fazbear's Pizza. He worked as the nightguard for 2 years, he was assistant manager for 8 years. He was then demoted due to a disaggreement over Air Quality. He now works as the janitor. He still stays overnight along with the nightguard cleaning up.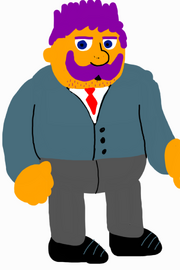 Personality
He is very gentle and peaceful. Even though he my look serious he is still a man with a heart of gold. The Animatronics dont EVER hurt him because of this. He is also nonviolent and never hurts anyone.
Relationships
Gamer Guy
Gamer Guy was always Clayton's favorite character, he always watches over him carefully at night.
Lindsay Kingsland
Clayton has only met Lindsay once, he met her when she was crawlinh around at night and she was seen by Clayton, He told her he "meant no harm" but she almost killed him. He had compassion and forgave her (He didn't report her to the cops)
Nightguards
Clayton is friends with all nightguards
Ad blocker interference detected!
Wikia is a free-to-use site that makes money from advertising. We have a modified experience for viewers using ad blockers

Wikia is not accessible if you've made further modifications. Remove the custom ad blocker rule(s) and the page will load as expected.