---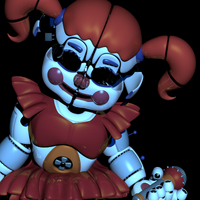 "You have reached Parts and Services."
The following page is currently under construction. That means some things featured may not be final and will be edited in future. This could also mean you can request ideas in the comments or edit the page if allowed. However, it's best to ask to edit the page, or check if the page has a "public" template.
---
"What have we done..? THIS IS A UNIVERSAL PARADOX!!" -Game description
Crossover V.S Zombies is an FPS by Bolt-Weed. This time, the Five Nights of Crossover series crosses over with Five Weeks with Zombies to make an oddly entertaining game.
Story
BBB and Dr. Zomboss, both in different timelines, coincidentally making portals at the same time. The result linked both portals together, making a permanant portal on walls linking the two timelines virtually the same. The two crews then met, the two respective leaders (Freddy and Dr. Zomboss) were happy to meet, and decided to challenge each other, now that both timelines are linked up. Some members of the crossover crew were left behind, but those that were brought along get to face off against Zomboss' ultimate zombies.
Playable Characters
To make things fair, since only 15 Zombies appear in Five Weeks with Zombies, 15 FNOC characters will appear too. Each character has unique abilities and play styles depending on who you are playing as, each with their own personality. Each character comes with a main weapon, and unique abilities, and maybe a special gimmick only they have.
FNOC Crew
Character
Personality
Health
Walkspeed
Main Weapon
Ability 1
Ability 2
Ability 3
Gimmick
Freddy
Serious but with a strong sense of humor
200
15
Flame-o-Phone

Toreador March- Puts nearby Zombies to sleep for 5 seconds.

17 second cooldown

Fazbear Laugh- Does his signature laugh. Boosts his damage by 20% for 8 seconds.

20 second cooldown

Jumpscare- Jumpscares a nearby Zombie. That Zombie is blinded for 7 seconds.

20 second cooldown

Flame-o-Phone lights Zombies on fire
BBB
Crazy, and doesn't think size matters
150
20
Pizza Boomerang

Suction Portal- Makes a portal which draws in projectiles fired by the Zombies for 4 seconds.

15 second cooldown

Party Popper- Blows a party popper, stunning nearby Zombies for 5 seconds.

30 second cooldown

War Hat- Blows into his hat like a war horn. BBB can now throw 3 Pizza Boomerangs for 20 seconds.

40 second cooldown

Pizza Boomerang returns after hitting something
RED Medic
A lunatic who doesn't care if people get hurt
150
17
Medi-Gun

Crossbow- Fires a bolt from the Crusader's Crossbow. If it hits an ally, heal that ally. If it hits a Zombie, do damage.

10 second cooldown

Medicine Barrier- Makes a medical and electrical shields that blocks projectiles for 10 seconds, and zaps Zombies that get too close.

30 second cooldown

Reanimate - Revive all nearby fallen allies, and heal them to full health.

60 second cooldown

Medi-Gun can revive and heal injured and fallen allies
Inkling Girl
Soft, but with a tenancy to snap at those she's up against
175
16
Splatterscope

Inkstrike- Launches an Inkstrike at where Inkling Girl is aiming. Zombies in the range get hit rapidly for 3 seconds of ink pain.

20 second cooldown

Squid Form- Turns Inkling Girl into a squid, allowing her to climb up walls. If used again, turns her back to normal.

No cooldown

Splash Wall- Sets up a splash wall where Inkling Girl is standing. Zombies that get too close feel it's wrath. Lasts for 18 seconds or until destroyed.

30 second cooldown

Splatteracope can see from long distances
Jester Zombie
Crazy, thinks everything is funny
100
23
Dagger Gatling

Jesternado- Spins around for 6 seconds. Projectiles hitting him get deflected away.

20 second cooldown

Crazy Time- Fully loads his Dagger Gatling and fires rapidly while spinning around, daggers flying randomly around. Lasts 6 seconds.

40 second cooldown

Medieval Joke- Tells an old-age joke, stunning any nearby Zombies for 4 seconds.

15 second cooldown.

Daggers fired can make Zombies bleed
Skeleton
Calm, doesn't speak much, but when he does, it's slightly offensive
75
20
Bow and Arrow

Fortify- Makes himself a Bone Helmet, giving him extra health. Helmet gives 50 health and lasts until destroyed.

10 second cooldown

Sharpshot- Fires a very powerful arrow at a random nearby Zombie which deals half of their total health in damage.

40 second coondown

Bone Lob- Grabs a bone from his ribcage and throws it in an arc, stunning any Zombie it hits for 7 seconds.

25 second cooldown

Arrows pass through Zombies at full power
Inkling Boy
Cocky and snappy, doesn't care about safety
200
15
Inkbrush

Killer Wail- Deploys a Killer Wail infront of him. Any Zombie hit gets a load of inky pain and knockback for 5 seconds.

35 second cooldown

Squid Form- Turns Inkling Boy into a squid, allowing him to climb up walls. If used again, turns him back to normal.

No cooldown

Ink Mine- Puts an Ink Mine in the ground which detonates after a Zombie reaches it, or after a minute passes.

20 second cooldown

Inkbrush's ink slows down Zombies that touch it or are hit by it
Kirby
Cheerful all the time, barely speaks
100
21
Copy Ability

Puffball Float- Kirby inflates himself like a balloon, giving him brief flight for 5 seconds.

20 second cooldown

Warp Star- Spawns a Warp Star and fires it ahead. Is controllable until it hits something.

35 second cooldown

Discard Ability- Gets rid of your copy ability. Enough said.

No cooldown

You can copy an enemy's main weapon with Copy Ability if it's pulled off succesfully
Pac-Man
Acts emotionless apart from rage
300
16
Pellet Cannon

Retro Snack- Eats a power pellet to heal to full health.

30 second cooldown

Pixelate- Turns Pac-Man into invincible pixels for 10 seconds.

50 second cooldown

New File- Sends you back to spawn.

10 second cooldown

If the pellets from the Pellet Cannon hit teammates, said temmates can be healed
Pikachu
Cheerful and shy
100
26
Thunderbolt

Charge- Fully charges Thunderbolt instantly.

30 second cooldown

Quick Attack- Thrusts Pikachu in the direction he's facing a fair distance.

5 second cooldown

Iron Tail- Turns his tail into steel and spins around 360 degrees once, hitting any Zombie close enough.

15 second cooldown

Thunderbolt can be charged

Has Lightning Rod, immune to electrical attacks

Sakuya
Soft and serious
250
17
Dagger Control

Sharp Burst- Readies 5 daggers at once, then fires them where Sakuya is looking.

20 second cooldown

Time Stop- Sakuya freezes her point of time for 5 seconds, projectiles stopping in place. However, this does not affect players, only projectiles.

15 second cooldown

Dagger Fest- Gives the ability to rapid fire daggers much faster for 9 seconds.

30 second cooldown

Daggers bleed and hit multiple times
Black Mage
Quiet and evil
125
20
Magic Arts (Fire, Thunder, Ice)

Warp- Makes a green circle in Black Mage's view. If you click while it is green, you can teleport there. If there's not enough space, it will be red.

10 second cooldown

Meteor- Makes a cannonball sized meteor appear and fires it straight down, making it explode in a feriociously big and firey range which can light Zombies on fire.

30 second cooldown

Ritual- Maes a blue magic barrier around him. If any projectiles hit the barrier, they heal Black Mage for 5% of the damage they would have done.

20 second cooldown

Magic Arts can be changed by right clicking (Fire, Thunder and Ice, in that order)
Bowser Jr.
Mischevious, evil and cocky
225
19
Clown Cannon

Abortion- Bowser Jr. activates self destruct on his clown car and leaps out. ANYONE near the explosion is going to get hurt badly. Bowser Jr. soon gets a new clown car out of thin air.

20 second cooldown

Shadow Mask- Puts his mask on, turning him to Shadow Mario. Shadow Mario acts like a melee character, swinging a long range paintbrush around, and is fast. Can jump decently high too. Lasts for 8 seconds.

40 second cooldown

Fire Breath- Bowser Jr. builds up fire and releases a burst of fire in front of him diagonally down. Can light Zombies on fire.

10 second cooldown

Clown Cannon shots can explode after landing on the ground
Chara
Psychopathic with no regard for mercy
100
16
Real Knife

SOUL Mode- Chara can change his soul mode at any given time to give him stat increases. Red is nothing, blue is jump increase, green is health regen and so on.

No cooldown

Empty Gun- Loads 6 orange or blue shots into the empty gun then fires them all at once. Can be dodged like in Undertale, but if failed to dodge, it's an instant kill. Luckily, the bullets are very slow.

40 second cooldown

DETERMINATION- Chara loses his mind and gets empowered with his own determination. This increases his speed and damage by 50% of what it was for 15 seconds. However, activating this tosses his health to 25.

60 second cooldown

Real Knife pierces through shields, projectiles, and can disable foes' abilities
Toon Link
Childish
200
24
Master Sword

Hylian Shield- Puts his trusty shield out in front of him, which blocks projectiles. While in use, you cannot attack. Using it again moves it out they way so you can attack again.

No cooldown

Bomb- Places a bomb down where he is which detonates after 5 seconds, and can light Zombies ablaze.

10 second cooldown

Hookshot- Uses his hookshot to attatch to walls, which pulls him in. If it's used on players, he'll pull the player he latched onto towards him, great for a surprise and quick attack.

20 second cooldown

Speed increases more on lower health
Zombies
Character
Personality
Health
Walkspeed
Main Weapon
Ability 1
Ability 2
Ability 3
Gimmick
Buckethead Zombie
Serious and cocky
300
20
Bucket Blaster

Hunger- Waves a red flag with a brain on it. Zombies nearby gain a 35% damage boost for 11 seconds.

30 second cooldown

Armored- Gets a bucket like his and drops it for an ally. The ally that picks it up can take an extra 100 damage.

10 second cooldown

Brainy Bomb- Lobs a bomb that looks like a brain and it explodes into a burning, and odd pink 'liquid'.

20 second cooldown

Has health regeneration while above 100 health

Screen-Door Zombie
Shy, but usually agressive
125
16
Screen Shotgun

Screen-Door Shield- Screen-Door Zombie grabs his trusty screen door shield off his back and holds it in front of him. It can take up to 200 damage for him, and can be put back to heal.

If destroyed, 20 second cooldown

Unload- Screen-Door Zombie fits as many shots in his shotgun as possible, and is ready to fire them all at once whenever he wants. Click to fire, and expect someone to die.

30 second cooldown

Re-inforce- Screen-Door Zombie re-inforces his Screen-Door shield, healing it by 75 health.

10 second cooldown

Can only be used if Screen-Door Shield is able to be used

Immune to attacks from behind while not using his Screen-Door Shield ability
Dolphin Rider
Maniac who doesn't care about safety
150
19
Dolphin's Revenge

Dolphin Buddy- Gets his dolphin and rides on it! This can be used for extra mobility, especially in water. If used again, the ability ends

No cooldown

Ambush- Dolphin Rider Zombie digs underground, hiding there for 5 seconds. When he comes back out, any enemy around him gets knocked away.

20 second cooldown

H2Mine- Places a mine down where he is looking. If an enemy gets in its range, it will explode, leaving them unable to control themselves very well from the water blast.

15 second cooldown

Has infinite breathing underwater
Balloon Zombie
A risktaker who likes challenges
225
18
Poptanic

Balloon Ride- Balloon Zombie puts his balloon to use, letting him weakly fly around for 10 seconds. If the balloon gets destroyed, you drop down and the ability ends.

20 second cooldown

Bursting- Balloon Zombie kicks a balloon forward and pops it by throwing a needle into it. Any enemy around cannot see for 3 seconds.

30 second cooldown

Water Balloon- Throws a water balloon, which acts like a grenade except it doesn't bounce.

15 second cooldown

Doesn't take fall damage
Gargantuar
Very agressive with no care for opposition
400
12
Shocking Pole

Voltage Stream- Releases a load of electricity in front of him from his pole, hitting all enemies in sight.

20 second cooldown

Imp Cannon- Fires an explosive zombie Imp from his 'back-can' which has a large explosive range.

30 second cooldown

Whackdown- Slams his pole down really hard, making a small shockwave around him, especially in front of him, which does small damage, but the smash does a lot.

50 second cooldown

Immune to knockback
Tomb Raiser Zombie
Playful and energetic, but is a wimp when it comes to fighting
200
13
Bone Cannon

Sandstorm- Places a giant bone down, and a sandstorm occurs around said giant bone, pulling enemies in and rapidly damaging them. Lasts 7 seconds.

20 second cooldown

Tomb Hole- Digs a hole in the ground then covers it up with fake ground. If an enemy steps on the fake ground, they'll fall into a tomb and lose half of their health worth in damage before being sent back to their spawn. Lasts 20 seconds.

35 second cooldown

Bark or Bite- Tomb Raiser's hat eyes go a stronger red and get the ability to shoot piercing lasers for 15 seconds with automatic fire.

30 second cooldown

He can spawn tombstones by hitting the ground with his main weapon's projectiles for various needs
Seagull Zombie
A risktaker, and a silly one at that
150
24
Broadside

Cannoball Party- Fires a cannon shot where he's looking. Giant cannonballs soon rain down there, dealing immense damage to enemies there.

30 second cooldown

Seagull Pal- Seagull Zombie lets his Seagull go on a 20 second rampage, although it leaves him vulnerable (cannot move until 20 seconds is up).

40 second cooldown

Black Flag- Tosses a black flag in an arc, pulling the enemy closest to it down underground, instantly killing them. Needs 2 seconds before killing someone.

20 second cooldown

Immune to melee attacks and shockwaves
Chicken Wrangler Zombie
A hungry, hungry chicken wrangler who longs for destruction
100
20
Chicken Cannon

Chicken Carnage - Lets his chickens free for a 10 second rampage per chicken. (10 chickens) While active, cannot activate his death mechanic if killed.

25 second cooldown

Minecart- Spawns a minecart for himself or an ally to give them advanced mobility. While in the minecart, they cannot use their abilities, but can be really annoying. Plus, the minecart takes an extra 50 damage for the rider until said 50 damage is dealt.

10 second cooldown

Draw- Turns around, preparing to shoot. Whips around 2 second later, firing his Chicken Cannon at all enemies on screen, which deal 75% of their total health worth in damage.

50 second cooldown

Releases 10 explosive chickens around him upon death
Jetpack Zombie
A zombie from tomorrow with great intelligence, but low everything else
150
17
Terror from Tomorrow

Future Protection- Places down a shield, which takes 500 damage from foe projectiles for you and your allies. Lasts 20 seconds or until destroyed.

30 second cooldown

E.M.Peach- Lobs an E.M.Peach he stole from the future in an arc, stunning foes in the radius for 5 seconds and deals minor electrical damage.

20 second cooldown

Mech Up- Spawns a mech turret where he is of his choice, with 20 options to pick from. A maximum of 5 turrets can be out at one time.

5 second cooldown

Can hover with his jetpack instead of jumping, for a limited fuel supply, of course
Imp Dragon
A cocky dragon-costumed Imp with an appetite for danger
125
14
Burning Buster

Rush- Lowers his head and rushes ahead in a fast, short ranged tackle with decent damage and knockback.

15 second cooldown

Overheat- Lights the ground on fire around him and leaps away from it, firing a fireball there to make fire fly eveywhere. Anyone who touches the fire takes damage.

30 second cooldown

Dragon Roar- Imitates a dragon's roar to stun all enemies nearby for 5 seconds and knock them back a bit.

20 second cooldown

Immune to afterburn and takes less damage from explosives
Bikini Zombie
Laid-back and innocent until you get in her way
125
17

Sea Shell (No kills)

Seashell Sword (2 kills)

Kelp Tesla (5 kills)

Burial- Leaps up and then when she lands, she hides underground for 9 seconds and heals during that time.

25 second cooldown

Low Tide- Tosses a water balloon which makes a large wave of water sweep away any foe at any angle, but not those above it.

20 second cooldown

Close Quarters- Swings her weapon around her in a full 360 degrees circle, inflicting slight knockback and reversing the unlucky foe's controls for 2 seconds.

20 second cooldown

The more kills you get in one life, the better her main weapon becomes
Hunter Zombie
Usually silent, and secretly agressive
250
13
Snowball Shooter

Tundra's Horn- Pulls out a fog horn and blows into it, making a gust of chilling wind which does knockback and slows foes down.

20 second cooldown

Winter's Wrath- Tosses a snowball at the ground and icicles rain down around where the snowball was tossed at, which slow foes down and deal damage.

30 second cooldown

Frost's Blaster- Puts an ice block into his snowball shooter and melts it into small ice cubes. For 15 seconds, the Snowball Shooter shoots more more powerful, slower but easier to slow foes down ice cubes.

40 second cooldown

Can slow foes down with his Snowball Shooter for easy kills
Excavator Zombie
Sentient, only speaks to those he deems 'worthy'
175
22
Golden Shovel

Dig Up- Puts his shovel under a tombstone or shield to move it around. Activating it again puts the tombstone or shield down where you are.

No cooldown

Treasure!- Digs into the ground and finds a golden grenade, lobbing it straight ahead which explodes with great strength and range.

50 second cooldown

Publishment- Pulls out a giant book and kicks it over. Any foe in the way is stuck in it and defeated.

30 second cooldown

Has the ability to move shields and tombstones wherever HE wants
Breakdancer Zombie
A zombie who wants to have a good time, is constantly happy and pumped for anything
150
19
Tempo Beam

Beat Drop- Changes the boost in this order - Speed, healing, damage, and ammo.

No cooldown

80s Boombox- Lobs a boombox forwards which explodes into a shockwave, stunning all foes around it for 4 seconds.

20 second cooldown

Mixtape- His weapon is suddenly loaded with 50 explosive blasts and they get fired in random angles, even behind him rapidly.

40 second cooldown

His main weapon can give passive buffs to zombies around him which multiply on the ammount of foes and allies nearby
Fossilhead Zombie
A lazy zombie, but is an absolute dominator when it comes to the battlefield
350
18
Extinction Crossbow

Primitive Charge- Charges forward. Any enemy in the way is hurt and knocked away.

20 second cooldown

Rally- Mimics a dinosaur roar. All allies around him get a 30% boost in speed until they are hit.

45 second cooldown

Regrow- You regrow new body parts, healing yourself for 200 health.

30 second cooldown

Bumping into an enemy does 100 damage to them thanks to the dinosaur skull on your head
Ad blocker interference detected!
Wikia is a free-to-use site that makes money from advertising. We have a modified experience for viewers using ad blockers

Wikia is not accessible if you've made further modifications. Remove the custom ad blocker rule(s) and the page will load as expected.