<title source="name"><default>Cyanide the Cat</default></title> <image source="image"/> <title source="title"><default>Cyanide the Cat</default></title> <data source="firstappearance"><label>First Appearance</label></data> <data source="latestappearance"><label>Latest Appearance</label></data> <data source="creator"><label>Creator</label></data> <data source="species"><label>Species</label></data> <data source="AIlevel"><label>AI Level</label></data> <data source="status"><label>Status</label></data> <data source="location(s)"><label>Location(s)</label></data> </infobox>
---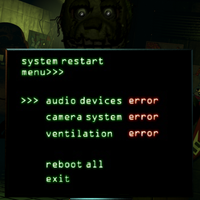 "The systems are in need of rebooting."
This article is a stub. Please help by editing and adding more information to the page. However, you must have permission from the creator of the page, unless you are that said creator, then edit to your heart's intent!
---
Cyanide is
Stiletto
's partner from an unknown circus/amusement park.
Appearance
Cyanide is a grey cat with black stripes in a blue spy jumpsuit. He also carries a cyanide sprayer in a holster and takes it out when he has his endoskeleton eyes.
Behavior
Daytime
Cyanide is often snarky and brutally honest, but almost never to the children. This attitude is almost always directed towards the staff, making him quite annoying. Of course, he loves Stiletto dearly. The two are inseperable.
Nighttime
Cyanide is like a less severe version of Stiletto. An extra trait he has is that he disables cameras occasionally. He moves faster than Stiletto, but still kind of slowly.
Hallucinations
A full-screen image of Stiletto and Cyanide kissing covered in blood appears.
Voice
Cyanide has a regular male voice.
Jumpscare
Cyanide sprays you with a hydrogen cyanide sprayer like the ones used by the KGB.
Ad blocker interference detected!
Wikia is a free-to-use site that makes money from advertising. We have a modified experience for viewers using ad blockers

Wikia is not accessible if you've made further modifications. Remove the custom ad blocker rule(s) and the page will load as expected.