Ad blocker interference detected!
Wikia is a free-to-use site that makes money from advertising. We have a modified experience for viewers using ad blockers

Wikia is not accessible if you've made further modifications. Remove the custom ad blocker rule(s) and the page will load as expected.
---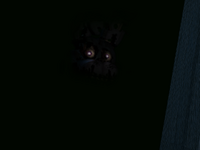 It could be there...
This article is a stub, please fix it by expanding its content, aslong as you have permission from the creator, unless this is your page, then go ahead and edit to your delight!
---
For their user, click here
They were suited in special suits that are unique like no others and their endoskeletons are very strong. Okay, so when they got the names Dutchy and Blinks planned, they are the sucessful animatronics in the world. But during the time where Blinks(Canny) got torned aparts making him look like Mangle. Blinks completely get enraged to Mangleand completely held her by the throat. Dutchy stopped Blinks and gives anger management to Blinks. Since years after Fazbear's Fright, the two animatronics were unknowingly, plushies.