Ad blocker interference detected!
Wikia is a free-to-use site that makes money from advertising. We have a modified experience for viewers using ad blockers

Wikia is not accessible if you've made further modifications. Remove the custom ad blocker rule(s) and the page will load as expected.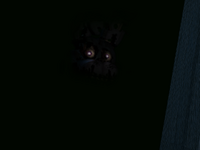 It could be there...
This article is a stub, please fix it by expanding its content, aslong as you have permission from the creator, unless this is your page, then go ahead and edit to your delight!
---
The Murders
Withered Jack is built and destroyed-3 year span
WJ and GTF die-2 years apart
WJ and GTF are rebuilt-Fazbear's Fright opens
Aidan's shift (Working there right now)
Stella the cat (a friend's character) and Diamond Foxy (Bunny's character) are built.
The Diamond Crew is formed-Stella (singer), DF (electric violinist / leader), GTF ( lead banjo-ist).
The rest of the series starts