---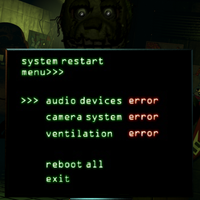 "The systems are in need of rebooting."
This article is a stub. Please help by editing and adding more information to the page. However, you must have permission from the creator of the page, unless you are that said creator, then edit to your heart's intent!
---
Chica: Well hi kids!
Kids: YAHHHHHHH!
Chica: YOU WANT PIZZAHHHHHHHHHHHHHHHHHHHHHHHHHHHHH!
Kids: O_____O
Chica: AHHHHHHHHHHHHHHHHHHHHHHHHHHHHHHHHHHHHHHH
Kid: Screw this peace this Shinizzle!
Skit 2
Pete: Why does the Plushies Come at night!
Nightmare: *garble*
Pete: SCARY!
*closes door*
Pete: CLOSET!
*checks closet*
*nightmare jumpscares*
Skit 3
Kid: FREDDY!!
*Kids scream*
Freddy: Hey Kids you want to Di- dye your hair with Freddy
Kid: MAKE IT PURPLE
Freddy: Only in red!
Kid: Oh! DYE IT
R.I.P
Timmy Gotgamth
1975 - 1987
Ad blocker interference detected!
Wikia is a free-to-use site that makes money from advertising. We have a modified experience for viewers using ad blockers

Wikia is not accessible if you've made further modifications. Remove the custom ad blocker rule(s) and the page will load as expected.