Characters By:NyanKittyKat, User:SpringThing14, and User:Candy crush dude. Inspired by Frisky's Survival Story(FanStory). Enjoy!
Note:This has several copyright issues with SpringThing14's story. NOT ANYMORE!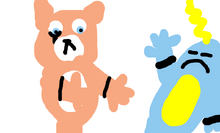 OK. I was thinking of smashing this page to smithereens but IDK.
-----------------------------------------------------------------------------------------------------------------------------------------
Scratch Cat: OK. Let's draw other peoples OCs weird or something like that.
Freddy: Haven't you forgot, YOU IDIOT? Did you forget we need to PACK?
Freddy: YOU ARE AN IDIOT! Hahahahaha!
Scratch Cat: I hacked your iPod, loser!
Freddy: Well, I'll be going to Humphreyville to get away from you!
Freddy: The plane will be here in 1000 seconds!
Freddy: There are no idiotic cats in Humphreyville!
Freddy: Cats are pointless idiotic furry idiots.
Freddy: I HATE CATS!
Freddy: CATS SUCK!
Tic: I'm drawing Lazy weird!
Bonnie: Your drawings suck, like cats.
Bonnie: Lazy does not want to see your cruddy garbage.
Bonnie: You're also wasting trees!
Bonnie: TREES ROCK!
Tic: I threw your computer in the trash, loser!
Bonnie: (gasps) My precious computer?
Bonnie: Well, at least I'm going to Humphreyville.
Bonnie: They EAT breath mints there.
Bonnie: I WANT TO TRY ONE OMG!
Tic: THEY EAT BREATH MINTS?
Bonnie: Yes.
Tac: I am drawing Tuggie!
Chica: Your drawings are ugly, you're ugly...
Chica: Ugly, ugly, ugly!
Tac: I threw away your iPod, loser!
Chica: GIMME IT BACK IDIOT!
Chica: I WILL HACK YOUR IPOD SOON!
Tac: I'm ignored, but that means PRIVACY! You probably have NO privacy!
Chica: Oh, stop bragging.
Tac: I'm putting toothpaste in your Oreos, loser!
Chica: (mutters) Idiot!
Chica: I am stepping on your mama!
Toc: I am going to Humphreyville because I am not an idiot!
Foxy: I'm going, too!
Foxy: I'll survive better than you!
Foxy: THE PLANES HERE!
(everyone hops on board)
Toc: This is fun!
Foxy: I got my own window seat!
Foxy: OW MY EARS THEY POPPED!
Foxy loses 1 ear
Driver (really Tac Nayn): Welcome to humpheryville.
Scratch Cat: Why do I only see nature...This is crazy...SAVE ME (locks up)
Tac Nayn: TRASH! (hauls out Scratch Cat)
Freddy: It looks like nobody was ever here. I hate being 1st.
Tic: Let's see... we took- ONLY MONEY? WHAT?
Bonnie: (throws it into the ocean)
Tac: We could use that money! Stop!
Chica: (whips out iPod) We still have this! (hugs it)
Toc: GET ME INTO THE WATER NOW! (he's an octopus)
Foxy: You are stupid! (throws Toc into the ocean)
Freddy: I'll get him! (swims) (comes back with Toc)
Tic: I'm dying! (bubbles) (recovers on land)
Bonnie: (plays The Bonnie Song on the iPod over and over)
Tac: COLORS COLORS COLORS
Chica: Be quiet guys!
Toc: Hey Scratch Cat, Freddy and Tic!
Foxy: Here they are!
Scratch Cat: What's up, Toc?
Freddy: You are stupid!
Tic: Shut up! I'm gonna go sleep!
Bonnie: You are an idiotic breath mint.
1 day later...
EXPLOSION
Scratch Cat: rrrrrr... (clicks)
Scratch Cat: Gimme food...quick...
Freddy gives Scratch Cat dirt
Scratch Cat: THX!
Scratch Cat: TIC!
Tic just lied there
Scratch Cat: TIC, WAKE THE F**K UP!
Freddy laughs
Freddy: He's dead.
Scratch Cat cries oil everywhere
Bonnie: It's OK. Gobo's here, BTW!
Scratch Cat: GOBO!?
They hug
Gobo: I gotta show you something
Scratch Cat: What?
Gobo: (points at tiny star) That is Tic. He will always look down on us. When you die, you will be a star,too.
Scratch Cat: Really? Wow!
Scratch Cat has a cupcake
Chica: HEY! That's MINE!
Bonnie is watching Nyan Cat on the iPod
Scratch Cat too
Freddy: I. Killed. TIC!
Scratch Cat: Kill me!
Freddy: Why?
Scratch Cat: I want to see Tic!
Freddy: Gobo is lying.
Scratch Cat: I hate you a**hole!
Freddy laughs
Scratch Cat drinks beer
Foxy: Yar, that be me rum!
Bonnie: Stupid pirate! Let him drink it.
Pico is smoking
Gobo jumps in the ocean and swims
Scratch Cat: Gobo! I saw the Tic star last night!
Gobo: He sees you even when you can't see him.
Freddy: Seriously?
Bonnie: Shut up. He needs to learn this stuff.
Bonnie: And-OH LOOK A STEAK!
Freddy and Pico run over to some cat poop
Toc: The heck guys? Scratch Cat never pooped.
Frisky: HOW DARE YOU STEAL OUR ISLAND!
Freddy: Um...we wanted that steak on the ground.
Frisky: STEAK!?
Frisky eats his own poop
Frisky pukes
Bonnie: LOL! I actually tricked you idiots into thinking that was steak. OMG WHY IS FRISKY HERE?
Frisky: (sighs) Well, because-
Scratch Cat: FRISKY! FRISKY! HI FRISKY! REMEMBER ME? I'M SCRATCH CAT!
Frisky: At least he's better than Cuddles-OMG HE'S CUDDLES' BIG BROTHER! RUN!
Foxy: Did I hear rum? Ye mateys, come and get me rum!
They all ran towards Tic's body.
Scratch Cat: Look! I'm a monkey! (sits in a tree)
Freddy: No, you're an idiot!
Bonnie: You know you're ruining his imagination...
Freddy: WHO THE HECK CARES?
Everyone: Him. (points at Scratch Cat)
Gobo: Imma go swimming! (jumps in water)
Scratch Cat: Me too! (jumps in water)
Scratch Cat can't swim and he hops on Foxy's canoe
Foxy: Ready for some fun, ye landlubber?
Scratch Cat: Uh...yes?
Foxy: All aboard me pirate ship! Meet me parrot, Polly!
Polly: I am not your parrot! I make that rum stuff!
Foxy goes about 25 yards and then he comes back.
Foxy: Land ho!
Scratch Cat: Thanks!
Toc: Let the PRO try it! (jumps in water)
Bonnie: Hey Scratch!
Scratch Cat: What?
Bonnie:I got u a book
The book says 2nd graders body book
Scratch Cat: No thanks, I already have it!
Bonnie: Oh.
Freddy: All that little idiot needs is to die!
Bonnie: No!
Chica gives them hugs
Bonnie: I love your boobs. Will you marry me?
Foxy: Salty landlubber dogs! Hop on me ship!
Scratch Cat: Coming!
Polly: Um...hi!
Scratch Cat: Drive the ship, Foxy!
They go 25 yards and then come back
Foxy: Land ho!
Freddy: WHY IS SCRATCHY STILL ALIVE!?
Foxy: Us pirates don't kill the youngsters! Stop being such a salty dog!
Freddy: YOU'RE THE SALTY DOG! (a big battle happens)
1 hour later...
Bonnie: Scratch, you ok?
Scratch Cat: Yeah! Why?
Bonnie: There was this big battle between Freddy and Foxy, and-
Scratch Cat: -they cussed at each other!
Bonnie: Yeah.
Ad blocker interference detected!
Wikia is a free-to-use site that makes money from advertising. We have a modified experience for viewers using ad blockers

Wikia is not accessible if you've made further modifications. Remove the custom ad blocker rule(s) and the page will load as expected.