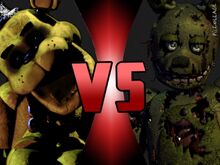 NOTE: This is not the game, but a series.
Wanna see a match up that you would like to see happen? Leave a comment below and tell me what you would like to see next!
The Fight
Springtrap was near the exit at Fazbears Fright when all of a sudden he heard a scream.
Springtrap: What the...
It was Golden Freddy has a Head, he hit Springtrap and they both went flying outside of Fazbears Fright
Golden Freddy: Helllllloooo former friennnnnnd
Springtrap: You....
Springtraps eyes turn blank black with a red skull in them
Springtrap: Let's finish what we started
Golden Freddy: Yes.....
Fight!
FULL FIGHT COMING SOON
Next Time
TBA
Ad blocker interference detected!
Wikia is a free-to-use site that makes money from advertising. We have a modified experience for viewers using ad blockers

Wikia is not accessible if you've made further modifications. Remove the custom ad blocker rule(s) and the page will load as expected.