Five Nights at Chuck E. Cheese's: The Final Chapter
Comment

1
Share
---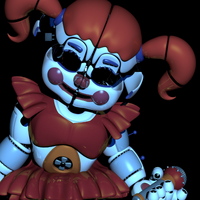 "You have reached Parts and Services."
The following page is currently under construction. That means some things featured may not be final and will be edited in future. This could also mean you can request ideas in the comments or edit the page if allowed. However, it's best to ask to edit the page, or check if the page has a "public" template.
---
Five Nights at Chuck E. Cheese's: The Final Chapter is the fourth and final installment in the Five Nights at Chuck E. Cheese's series.
Story
The items in Cheese's Fright have been auctioned off to a museum, and they are looking for a nightshift security guard. Caillou has met his fate by being crushed by the spring-lock mechanisms inside of Tatters. This means he will not be the main antagonist. The museum created its own original animatronics.
Characters
Humans
Unnamed protagonist
Phone Guy
Dora Marquez Taller is the main antagonist of the game. She is the widow of Caillou and wants to avenge her deceased husband.
Animatronics
Nightmare Chuck E. is the main animatronic and first activates on Night 4.
Nightmare Jasper first appears on Night 1.
Nightmare Helen first appears on Night 1.
Nghtmare Munch first appears on Night 2.
Tatters is a torn-up Jasper-looking animatronic who first activates on Night 1.
Harmony Howlette makes a returning appearance and first appears on Night 2. Where her suit is torn, parts of Caillou's corpse can be seen.
Phantoms
Phantom Chuck E.
Phantom Helen
Phantom Munch
Phantom Jasper
Phantom Pasqually
Phantom Crusty
Phantom Sally Sashay
Phantom Foxy Colleen
Phantom 1977 Chuck E.
Trivia
According to UUnlockedMario, Tatters was going to be the animatronic in Five Nights at Chuck E. Cheese's: Only One Left, but was replaced with Harmony Howlette.
Ad blocker interference detected!
Wikia is a free-to-use site that makes money from advertising. We have a modified experience for viewers using ad blockers

Wikia is not accessible if you've made further modifications. Remove the custom ad blocker rule(s) and the page will load as expected.