---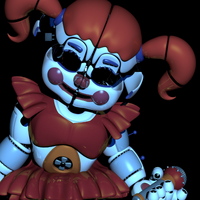 "You have reached Parts and Services."
The following page is currently under construction. That means some things featured may not be final and will be edited in future. This could also mean you can request ideas in the comments or edit the page if allowed. However, it's best to ask to edit the page, or check if the page has a "public" template.
---
Five Nights at Fazburger's is Ben10fan3's fan-game spinoff of the FNAF series.
Synopsis
Newspaper
"Need a job? Got nowhere to work? Then Fredbear's Fazburgers and Fries is the place for you! Call (198)-783-FRED, to get your job today!"
Animatronics
Fredbear
His appearance resembles a fixed Nightmare Fredbear, minus the stomach mouth and his claws. He has blue eyes. 
Bon (Spring-Bonnie)
His appearance resembles a fixed Springtrap, his fur color has  Fredbear's golden hue. He has green eyes.
Freddy
Fredbear's younger brother, he is the Golden Freddy suit but with a full endoskeleton that has blue eyes. 
Prototype Model -  BA_Y
Its appearance is an endoskeleton with random pieces of white porcelain covering its head. It is the Freddy of the game. Not active until around Night 4, but only comes out whenever the power goes out. 
Ad blocker interference detected!
Wikia is a free-to-use site that makes money from advertising. We have a modified experience for viewers using ad blockers

Wikia is not accessible if you've made further modifications. Remove the custom ad blocker rule(s) and the page will load as expected.