Ad blocker interference detected!
Wikia is a free-to-use site that makes money from advertising. We have a modified experience for viewers using ad blockers

Wikia is not accessible if you've made further modifications. Remove the custom ad blocker rule(s) and the page will load as expected.
---

TonicHedgefox's page!
This article is apart of TonicHedgefox's/Tonic ze Hedgefox's collection of pages. You're not allowed to edit without permission from Tonic unless it's for stub, fixing or categorizing purposes.
---
---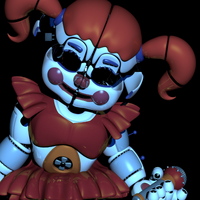 "You have reached Parts and Services."
The following page is currently under construction. That means some things featured may not be final and will be edited in future. This could also mean you can request ideas in the comments or edit the page if allowed. However, it's best to ask to edit the page, or check if the page has a "public" template.
---
Five Nights at Freddy's: 2017 is a remaster of Five Nights at Freddy's made by ScottGames Enterprises, released on New Years 2017. This game is a complete remaster of the original Five Nights at Freddy's.
The game plays very similar to the original Five Nights at Freddy's. Every location is rerendered with better lighting and different angles. Instead of a power system, doors must be held closed by holding the button. To check the blindspot, you must hold the light button too. That means you can't close two doors at once.
Characters
Edit
Freddy Fazbear - Freddy acts very similar to how he did in FNAF1. However, once you close the door on him properly, he'll leave and go straight to the Dining Area no matter what.
Bonnie - Bonnie acts the exact same as he did in FNAF1. He'll automatically leave if the door is closed.
Chica - Chica acts the same as she did in FNAF1. Like Bonnie, she'll automatically leave if the door is closed.
Foxy - Foxy acts the same as he did in FNAF1. If he gets to the door, he'll only knock on it once, then run back to Pirate's Cove.
Balloon Boy - Balloon Boy is a new character to FNAF1. He starts within the Backstage, before moving to Game Area, West Hall and then into the Office. If he gets into the Office, the doors will not work.
The Puppet - The Puppet is also a new character to FNAF1. It secretly exists within the Backstage, that begins to move at 4AM where everyone is in active on Nights 5-6, unless it's Custom Night and The Puppet isn't more than 0. It'll appear everywhere before getting to the Office.
Golden Freddy - Golden Freddy
tba