---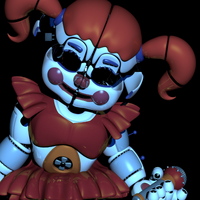 "You have reached Parts and Services."
The following page is currently under construction. That means some things featured may not be final and will be edited in future. This could also mean you can request ideas in the comments or edit the page if allowed. However, it's best to ask to edit the page, or check if the page has a "public" template.
---
Five Nights at Freddy's: Charlotte Rampage is a possibly spin-off of FNAF and FNAF 2. However, there are no canon Animatronics (Only Toy Animatronics, but only appear in Cutscene). Charlotte (Along with Kitty's Animatronic OCs expect Hiromi) is replaced as the Main Antagonist of the game. This was released in 2015.
Gameplay
You play as Jeremy Fitzgerald. The Phone Guy tells you that Charlotte had scratched a kid during the incident in 1998. You must survive Night 1 to Night 5 from Charlotte and her friends. When you beat Night 2. Well, you unlocked Evelyn!
Locations/Cams
CAM 1
This is the Showstage. Charlotte, Miku, Agnes and Kurumi start here.
CAM 2
This is the Left Hall. This is where Miku or Kurumi wait there until you open the door. Charlotte can be sometimes go there.
CAM 3
This is the Right Hall, Agnes will wait here. Again, Charlotte can sometimes go there.
CAM 4
This is the Main Hall. Charlotte and Miku go there.
CAM 5
CAM 6
CAM 7
CAM 8
CAM 9
CAM 10
Phone Calls
Night 1
Night 2
Night 3
Night 4
Night 5
Trivia
There is no Custom Night.
This was appear to be in Visual Novel style.
Gallery
Ad blocker interference detected!
Wikia is a free-to-use site that makes money from advertising. We have a modified experience for viewers using ad blockers

Wikia is not accessible if you've made further modifications. Remove the custom ad blocker rule(s) and the page will load as expected.