Five Nights at Freddy's 5 is a game made by Le Majestic NyanKittyKat.
Summary
You have been hired as a daytime guard at Freddy's Pizza & Meals. What can go wrong? 799¢ a night, 7 hours, and good security features.
---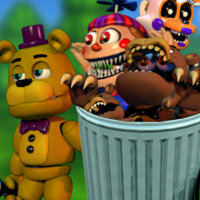 "Fredbear says: To the Halloween Update Backstage you go."
The following page is currently a candidate for deletion. Do not delete this template unless you are an admin or there will be serious consequences. The reason for this deletion is: st00pid page m8
---
Freddy the Bear
Freddy is a dark brown bear. He has a top hat and a bow tie. He is also the lead singer in the band. He has a tan tummy and a short tail with tan on the underside of it.
Behavior
Freddy is first seen on Night 1. He starts at 2-4 PM on Night 1. He will go to the Dining Room, Kid's Cove, Prize Corner, Parts/Service, Right Vent Blindspot, then the West Hall. He can be stopped by closing the door. He can rarely go to Foxy's Area. In the day he is the main singer, as said before. He can walk off the stage to interact with kids. He usually says stuff like "Aren't you hating the songs?" or "How are the drinks?"
More coming soon!
Ad blocker interference detected!
Wikia is a free-to-use site that makes money from advertising. We have a modified experience for viewers using ad blockers

Wikia is not accessible if you've made further modifications. Remove the custom ad blocker rule(s) and the page will load as expected.