Ad blocker interference detected!
Wikia is a free-to-use site that makes money from advertising. We have a modified experience for viewers using ad blockers

Wikia is not accessible if you've made further modifications. Remove the custom ad blocker rule(s) and the page will load as expected.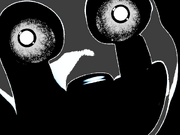 Five Nights at Koopy's is a Five Nights at Freddy's Spinoff and Super Mario Bros. by Endermaster1.
Welcome to Koopy's Diner, a place for children to eat at and watch Koopy and his robot gang play music. You are a night guard to watch over these robots and make sure nothing goes wrong. But you must beware of Koopy and his gang, because they will try to get into the office. Can you survive Five Nights at Koopy's?
There are a total of 5 robots hidden in the game:
Koopy: Koopy is a robot koopa. He appears on CAM 1, CAM 3, CAM 5, Right Light, and Left Light.
Yoshi: Yoshi is a robot Yoshi who appears on CAM 1, CAM 2, CAM 4, and Left Light.
Toad: Toad is a robot mushroom man who appears on CAM 1, CAM 3, CAM 4, and Right Light.
Chompy: Chompy is a robot Chain Chomp who appears on CAM 6.
Purple Koopy: Purple Koopy is a purple version of Koopy who appears on CAM 5.
Cam 1 is the Showstage, and it is the starting point for Koopy, Toad, and Yoshi. Toad, Koopy, or Yoshi can leave first, instead of Koopy leaving after Toad or Yoshi.
Cam 2 is the Dining hall. Not much of it is used in the game except for that Yoshi travels through here.
More coming soon.
More Coming Soon
More Coming Soon
More Coming Soon
More Coming Soon
More Coming Soon
Link to Game
Edit
Five Nights at Koopy's 2
Edit
More Coming Soon