---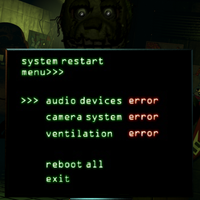 "The systems are in need of rebooting."
This article is a stub. Please help by editing and adding more information to the page. However, you must have permission from the creator of the page, unless you are that said creator, then edit to your heart's intent!
---
Five Nights at Mike's
is a reversed version of Five Nights at Freddy's.
Story
An animatronic named Freddy Fazbear gets a job as a security guard at Mike Schmidt's Pizza for the night shift. What he doesn't know is that the humans roam the halls at night, and when they see an animatronic after hours, they see them as a empty costume without a endoskeleton. Since that's against the rules at Mike Schmidt's Pizza, they will forcefully stuff Freddy into a spare Mike Schmidt endoskeleton.
Characters
Animatronics
Freddy Fazbear is the night shift security guard at Mike Schmidt's Pizza and the main protagonist.
Phone Foxy is a former security guard at Mike's who is Freddy's tutorial/guide and the dueteragonist.
Humans
Mike Schmidt is obviously the least active human. He does not become active until Night 4. Whenever the player runs out of power, Mike's face will appear in the left door hallway and illuminate and shimmer and plays his song. Not moving at all will make his sing last longer, making it more probable that Freddy will make it to 6 AM. This is the only way to get attacked by Mike up to Night 3. He will appear from the right door hallway.
Phone Guy is the first human to become active and is the Bonnie of FNaM.
Jeremy Fitzgerald is the second human to become active.
Fritz Smith acts similar to Foxy, as Pirate Cove must constantly be checked to keep him at bay.
Golden Mike is obviously the Golden Freddy of Five Nights at Mike's.
Ad blocker interference detected!
Wikia is a free-to-use site that makes money from advertising. We have a modified experience for viewers using ad blockers

Wikia is not accessible if you've made further modifications. Remove the custom ad blocker rule(s) and the page will load as expected.