Ad blocker interference detected!
Wikia is a free-to-use site that makes money from advertising. We have a modified experience for viewers using ad blockers

Wikia is not accessible if you've made further modifications. Remove the custom ad blocker rule(s) and the page will load as expected.
---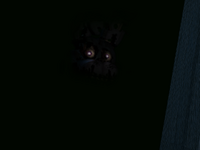 It could be there...
This article is a stub, please fix it by expanding its content, aslong as you have permission from the creator, unless this is your page, then go ahead and edit to your delight!
---
Five Nights at Shanetel's
Game Information
Platform(s)
PC
Engine
Scratch 2.0
Developer
Robert Mike Slave
Genre
Survival horror, point-and-click
Theme
Mode
Single player
Project
Release date(s)
August 20, 2015
Download(s)
[1]
Port of
Proceeded by
Followed by
Five Nights at Shanetel's 2: The Re-Opening
Five Nights at Shanetel's is a FNaF fan game made by Robert Mike Slave using Scratch. It takes place on Shanetel's Spaghetteria, and has you playing as Jason Stewart. It was released at August 20, 2015.