---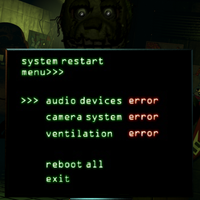 "The systems are in need of rebooting."
This article is a stub. Please help by editing and adding more information to the page. However, you must have permission from the creator of the page, unless you are that said creator, then edit to your heart's intent!
---
"Don't be shy"-Pink guy 2017
Five nights at freddys 5 is 5th game of fnaf.You are The man in Some creepy house place you must check the doors to animatronics not kill you. Door can be unlocked by surviving 5 nights because door have new system.
Animatronics
Nightmare Old/Withered Candy the cat is character from FNAC.He activate night 3.
Nightmare Springtrap is charatcer from FNAF.He activate night 2.
Nightmare Withered/Old Plushtrap is Character from FNAF.He activate night 2.
Nightmare Chica is chaarcter from fnaf.She activate night 3.
Nightmare Toy chica is character from FNAF.She activate Night 3.
Nightmare Bontor is new character.He is black Bonnie with microphone.He activate night 2.
Killers
Pink guy give you to this place.He is psychopatic so that's why.
Mechanics
Doors is just like in FNAF 4.If animatronic appear in door just close the door and wait if he go away.
Flashlight is make to you see is animatronic here.
Easter eggs
None
Trivia
TBA
Ad blocker interference detected!
Wikia is a free-to-use site that makes money from advertising. We have a modified experience for viewers using ad blockers

Wikia is not accessible if you've made further modifications. Remove the custom ad blocker rule(s) and the page will load as expected.