---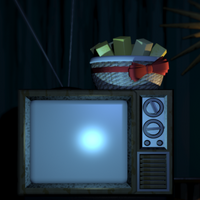 "Thank you for selecting: Exotic Butters"
This page is a joke page, which means it's not meant to be taken seriously at all. Joke pages are typically silly dumb ideas that'd never work or ideas that aren't meant to be taken seriously at all.
---
Info
Five nights at something is a game made by User:MarioVsSonicFan. In this game, you have to survive 5 nights of Something with random meme's and jokes coming at you in a Kids Pizzeria. Can you survive 5 nights of................. SOMETHING?! Well, i have no idea.
Characters
Corry James
Corry James is the night guard in the game you play as. When you play the game, every now and then you can hear him breathing and drinking Mountain Dew.
Freddy Fazzywazzycrazzybazzybear
Freddy Fazzywazzycrazzybazzybear is the face of the unnamed Pizzeria. Freddy is active on the 2nd night and when you see him on stage he is holding Apple Juice and he is wearing a hat that says, "Hi, I'm a bear". Sometimes you can Freddy say boom. When he does that means he is in the hall or he's at your door.
Weegge
Weege is found in a closet in the game. When Weegge leaves the closet door will be wide opened. The father Weegee is away fro m your office, the harder it is too find him. When Weegge jumpscares you he says, "SPAGHETTI!"
TBA
Nights
TBA
Easter Eggs
TBA
Minigames
Run
You are Freddy and a giant taco is chasing you. Run to the exit has quick as you can or else you will be attain by the Taco
TBA
Ad blocker interference detected!
Wikia is a free-to-use site that makes money from advertising. We have a modified experience for viewers using ad blockers

Wikia is not accessible if you've made further modifications. Remove the custom ad blocker rule(s) and the page will load as expected.