Ad blocker interference detected!
Wikia is a free-to-use site that makes money from advertising. We have a modified experience for viewers using ad blockers

Wikia is not accessible if you've made further modifications. Remove the custom ad blocker rule(s) and the page will load as expected.

---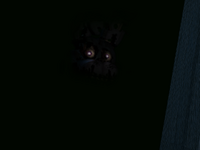 It could be there...
This article is a stub, please fix it by expanding its content, aslong as you have permission from the creator, unless this is your page, then go ahead and edit to your delight!
---
Flip is an Animatronic based off of me, he is an animatronic found found in Flip's Fun Foods.
Appearance
Edit
He has brown hair, a red shirt, and blue jeans. he is slightly withered, showing his endo-skeleton
Personality
Edit
Flip is only active on night two and forward, he starts in the garage(Where all the old animatronics are kept). while he is active, he can travel anywhere on the map, but stays anywhere for a long time.
Based off User:TotallyUnoriginalContent, who is known on youtube as TotallyFlip
His favorite food is Nightguard Bacon, which is why he has blood around his mouth
TotallyFlip is the phone guy in his game