---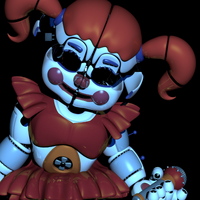 "You have reached Parts and Services."
The following page is currently under construction. That means some things featured may not be final and will be edited in future. This could also mean you can request ideas in the comments or edit the page if allowed. However, it's best to ask to edit the page, or check if the page has a "public" template.
---
Forever at Freddy's is a game that takes place between FNaF 2 and FNaF 1. Your job is to protect the animatronics for shipping.
Anamatronics
Freddy Mk. A2 and Mk. B2
Chica Mk. A2 and Mk. B2
Bonnie Mk. A2 and Mk. B2
Lionel Mk. A2 and Mk. B1
G. Freddy Mk. A1
Foxy the Fixer
Mangle
Puppet Mk. A2
Mk. A1= Normal Mk. A2= Withered
Mk. B1= Toy Mk. B2= Withered Toy
Cameras and Rooms
Party Room A1, Party Room A2, Party Room B1, Party Room B2, Show Stage, Kitchen, Fixer Room, Prize Corner, Factory Room
Ad blocker interference detected!
Wikia is a free-to-use site that makes money from advertising. We have a modified experience for viewers using ad blockers

Wikia is not accessible if you've made further modifications. Remove the custom ad blocker rule(s) and the page will load as expected.