Foxy 3.0, also known as Princess Foxy, is a pink fox who is the replacement of Foxy and Mangle. She was made after the Toy Animatronics got scrapped.
She wears a pink princess dress and a purple tiara. The reason she isn't a pirate is because the management thought the original Foxy was too scary, it's also the reason that Mangle was made kid-friendly too. She also has a shooting star on her dress too.
She also made an appearance in Five Nights at Freddy's 4.
Please note that Foxy was changed to a girl while the company was making this animatronic.
Minigame
Foxy 3.0 has a Minigame named Princess Foxy's quest. In this game, you must collect the gems until you see an exit door. You can get a secret, multicoloured gem if you follow the steps, which I will add to Five Nights at Freddy's 4 (Chica3.0's version). You can get a cake ending by getting the cake ending in the Chica's Cake Minigame.
Gallery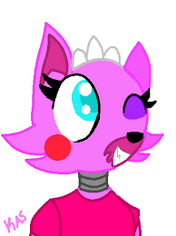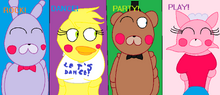 Ad blocker interference detected!
Wikia is a free-to-use site that makes money from advertising. We have a modified experience for viewers using ad blockers

Wikia is not accessible if you've made further modifications. Remove the custom ad blocker rule(s) and the page will load as expected.