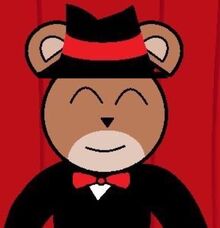 Fozie Fazbear is Freddy's cousin and a member of the Cutting Crew, a group of cooking entertainers. He is grizzly bear that wears a tuxedo, a red brimmed fedora, white slacks, and black tennis shoes.
Backstory
Back when Fozie was introduced with the rest of the Cutting Crew, he was a rapper and a dancer for the band, in addition to to being a standalone comedian. After Chef was stolen by Fazbear Entertainment, he spent most of his time comforting the other animatronics, so he didn't perform as often as he used to, thus leading him into depression. After the crew was reunited, management decided to make Fozie and Freddy cousins, and Fozie began performing again. After he was destroyed, he was rebuilt by the new animatronic Lindsay.
Personality
General: Fozie has a very snarky personality, and will joke about people any chance he gets. He is very up-beat and nice, though, despite his nicknames and teasing.
Special Relations:
Freddy: They hate each other.
Lindsay: The two perform together all the time, so they are very nice to each other.
Tabitha Kat (The Cat): The two are currently in a relationship.
Phantoms\Hallucinations\Etc.
A hallucination of him eyeless can appear rarely.
He has a proxy, Fuzzy, from System X.
Trivia
-Fozie was inspired by Fonzie from Happy Days, thus the similar names and appearance. Fozie even does Fonzie's signature thumbs up gesture sometimes.
-His Jumpscare is screaming with his endoskeleton eyes, and then punching you in the face.
-Fozie stars in a Death Minigame called S-E-P-A-R-A-T-I-O-N. You play as him walking around, trying to find Chef. Shortly after you go through all the rooms, a pixelated figure appearing to be Lindsay walks up to you. After this, static will appear and Lindsay will jumpscare You.
Quotes
"SUP, SUCKER!?" -Jumpscare
"Let's see, we have the Redhead, the Moustache, the Bug, Coke, Fawxey...." -Naming off all his nicknames (Credit to Samanthatheflyingsquirrel25 for the picture!)
Ad blocker interference detected!
Wikia is a free-to-use site that makes money from advertising. We have a modified experience for viewers using ad blockers

Wikia is not accessible if you've made further modifications. Remove the custom ad blocker rule(s) and the page will load as expected.