Freddy Fazbear's Pizza: Animatronics Rebooted is a game that will be released in 2015.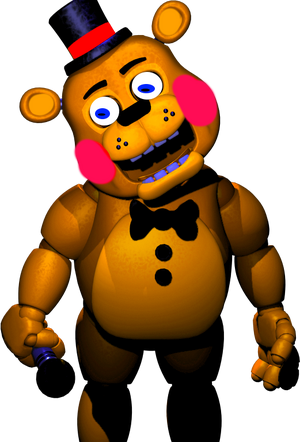 Summary
  "Fifteen years after Fazbear's Fright: The Horror Attraction burned down, a man buys Fazbear Entertainment and      renames the company to Fazbear FunZone Company. The new location  actually has stores and extreme rides. But  the company is looking for a night guard and that night guard is you."
Animatronics
New Animatronics
Rebooted Freddy
Rebooted Bonnie
Rebooted Chica
Rebooted Foxy
Rebooted Mangle
Rebooted Balloon Boy
Rebooted Puppet
Returning Characters
Golden Freddy
Springtrap
Freddy Fazbear
Chica
Bonnie
Foxy
Mangle
Other
Phantom Freddy
Phantom Bonnie
Phantom Chica
Phantom Foxy
Phone Calls
Night One
Hello, hello? Welcome to the new Fazbear FunZone Company. I have to warn you that the animatronics get more aggressive when its getting to daytime. Fazbear FunZone Company is not responsible for any death or injury. The animatronics.....uh scary?  Don't get stuffed in a suit. See ya tomorrow and help....me.....
Ad blocker interference detected!
Wikia is a free-to-use site that makes money from advertising. We have a modified experience for viewers using ad blockers

Wikia is not accessible if you've made further modifications. Remove the custom ad blocker rule(s) and the page will load as expected.