---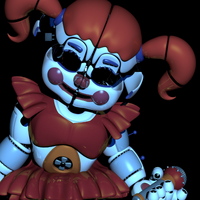 "You have reached Parts and Services."
The following page is currently under construction. That means some things featured may not be final and will be edited in future. This could also mean you can request ideas in the comments or edit the page if allowed. However, it's best to ask to edit the page, or check if the page has a "public" template.
---
To survive every floor of Freezy's house, you must use multiple mechanics to thwart him and his friends.
Backstory
Downtown Freezy, a wikia user, always wanted to be in power. After his promotion to Bureaucrat, he became a complete power junkie, eventually committing atrocities just because they made him feel in control. Freezy's evil power became his downfall, transforming him into an ectoplasmic ghost. The ghost's only power was to summon physical beings, and he became the catalyst for the creation of monstrous animatronics, coming from the Five Nights at Freddy's series. He placed them in his haunted house, and the young Freezy, who's transformation had made him considerably more impish, drove travelers into wandering inside, where he could play his twisted games.
Antagonists
Freezy
Although he doesn't directly attack the player, he influences the animatronics to do so, and even possesses some of the experiments who the player encounters.
Freddy, Bonnie, Chica
All of the three main cast of FNaF appear as antagonists. They chase you throughout the floors attempting to kill you.
Ad blocker interference detected!
Wikia is a free-to-use site that makes money from advertising. We have a modified experience for viewers using ad blockers

Wikia is not accessible if you've made further modifications. Remove the custom ad blocker rule(s) and the page will load as expected.