Attention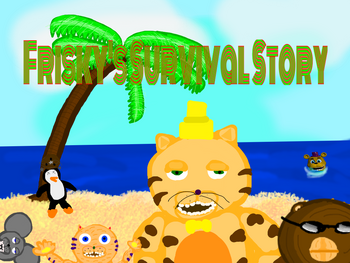 This story you see here isn't canon to any games or fan-games. This takes place in an alternative universe where animatronics rule the land. Also, some animatronics you see here may not be in any games, and are made only for role plays. Also, people have asked for there characters to be in the story. Let me give some credits to them:
Tina.g.sherwin: Dylan, Kate the Cat, and Joel 2.0.
Dipsy the Tubbybot: Star, Oscar, and Katie.
Shadowboy1922: Aster the Armadillo.
1337MinerDude: Rainbow McColor.
All the rest belong to SpringThing14.
Written By: SpringThing14
Plot: Frisky and Friends are going on a vacation to Rio with Dipsy's the Tubbybot's OCs, Star and Friends. They get in the flight, but something goes wrong. Frisky's Crew, Stars Crew, and a few others survive the crash on a tropical island. They are forced to survive the dangerous journey, in hope that they'll get rescued and make it home.
Also, there are two Kates in this game. Kate the Coyote(by me) and Kate the Cat (By Tina.g.sherwin).
Link to Five Nights at Frisky's:Five Nights at Frisky's:Frisky's Fry
Bonus Characters: Joe the Pilot Gorrilla, and Ralph the Co Pilot Rhino (I won't spoil who dies- if any of them even do).
------------------------------------------------------------------------------------------------------------------------------------------
Chapter 1:The Crash
Frisky:Guys! Are you sure we have everything?
Kelly:We sure do!
Frisky: Good! 
Marley: I'm excited to go to some Night Clubs where I can be a pro rapper!
Cuddles: I want hugs!
Jessi: No way. Your making everything babyish! STOP PLEASE!
Kate the Coyote: Knock it off Jessi. He's young!
Jessi: I don't give a frickin' crap.
Polly: No violent language!
Jessi: THAT'S NOT EVEN A BAD WORD!
New Pungy: Well, it's rude.
Jessi: Be quiet you tiny penguin. Where we're going, that scarf is useless.
New Pungy: But...I always wear it!
Jessi(swipes it off New Pungy)
Pungy: Hey! Give it back!
Jessi: I told you! You don't need it! Geese!
The Phantom(looks at Jessi):Give it back.
Jessi: YES SIR(shudders from fear, and hands it back to New Pungy).
New Pungy: Thanks!
The Phantom: No problem. It's part of my job.
Frisco: Guys-why are Star, Oscar, and Katie late?
Ivan: It's probably Oscar.
Star and friend's point if view...
Star: OSCAR! Stop watching Tellatubbies and DRIVE!
Oscar: No way!
Katie: I can't wait to kiss Polly!
Star: Am I the only smart one on this car? Also, Polly HATES you!
Katie: Oh, come on. You're just saying that so I'll stay away from him.
Star: Ahem. Look at these photos.
(Photo One: Polly is holding a gun to his head when Katie kisses him for no reason.)
(Photo Two: Katie kissing Polly's check, with Polly holding a sign saying "HELP ME")
(Photo Three: Polly jumping down Niagara Falls just to get away from Katie.)
Star: Well?
Katie: Those are just lies.
Star: I hope that if the plane were to crash, you die in it. You too Oscar.
Katie: Harsh!
Oscar: Just cruel.
Star: Hah, there's the airport.
Star and Friends finally arrive and meet with Frisky and Friends...
Pungy: Hi!
New Pungy: Hello!
Corny: Sup!
Frisco: Thank God you're here. What took you so long?
Katie: Star was being mean. Oh, Hi Polly!
Polly: Balls. I bette ...GAHHH!
(Katie chases Polly)
Polly: IS SHE NUTS?
Star: Yes. Also, Oscar was watching Tellatubbies and Katie was obsessing over Polly. AGIAN.
Polly: Hope that if the plane crashes, Oscar and Katie will die.
Frisky: Guys! Our flight!
Feena: Let's go!
(on the plane...)
Star: I'm so excited to get to Rio!
Katie: Me and Polly can kiss under a Palm Tree!
Polly: NO WAY, BONE BRAIN.
New Frisky: Guys! Try the hot dogs! They're delicious!
Frisky: Ok. (takes a bite) OH MY GOD (shoves the whole thing in his mouth)
New Frisky: Hey! That was mine!
Frisky: I don't care. That was AWESOME!
New Frisky: Well, now you're buying me a new one.
Frisky: Psst, no way, LOSER!
New Frisky: (stares at Frisky with cold eyes and an angry look) You're doing it or I'm calling Jessi.
Frisky: Ugh, fine.
Later on that Night...
Joe (Pilot): WHAT'S GOING ON?
Ralph (Copilot): I DON'T KNOW! Oh- WE'RE OUT OF GAS!
Joe: WE'RE OUT OF GAS?
Ralph: YES! QUICK WARN EVERYBODY!
Joe (talking in a microphone): NOT TO WORRY BUT WE'RE CRASH LANDING! WE'RE OUT OF GAS! FIND SOME WAY OF SAFETY! 
Ralph: It looks like... WE'RE CRASH LANDING ON AN ISLAND!
Joe: WERE GOING TO CRASH ON AN ISLAND!
Frisky: GUYS! WE'RE ALL GOING TO DIE!
Polly: HOLD ON TIGHT!
Katie: (hugs Polly very tight)
Polly: I DIDN'T MEAN IT LIKE THAT!
Kelly: BRACE YOURSELVES!
Oscar: AHHHHHHH! Oh, look! A bag of chips!
Kate the Coyote: AHHH!
The Plane then Crashes..
Chapter 2:The Survivors
Frisky: Uhhh..... uhhhh..... guys?
Fush: Guys, I'm not too hurt. All survivors must leave the plane immediately.
Star: My leg hurts...
Fush: Come on!
Kelly: I'm ok. Coming!
Joel 2.0: I'm ok.
Dylan: Hey guys! What happened? I just went to the bathroom to secretly eat some chi-.... AHHHH!!!!!!!
Jessi: The plane crashed.
Polly: I have cuddles.
Cuddles: (Crying) WAAAHHH!!!!! I'M SCARED AND I WANT SNUGGLES AND HUGGLES AND CANDY AND CAKEY AND MIWKEY!!!! WAAAHHHH!!!! (farts a rainbow)
Jessi: Perfect. That stupid kitten survived.
Star: GUYS-THIS IS HORRIBLE! 
Porky: I know. We have to survive on this island by ourselves!
Star: No, I mean that OSCAR AND KATIE SURVIVED!!!!!
Frisky: Guys! Look! A survivor!
Survivor: Hi, I'm Rainbow Man.
The Phantom: Quick. Let's go.
The survivors escape the plane...
Aster: What are we going to do?
Frisky: It's around midnight. Guys, we have to get working on a shelter. We may not get rescued for a long time, maybe never. We don't know what's even on this island.
Corny: This sure sucks. But we can do it! Have some confidence.
Fush: We should. But we need food, water, a place to sleep, and weapons. I am skilled at things like this. I will act as our guide.
Nightmare Fredbear:WE ALSO NEED STEAK!
Freddy: We only need what Fush said.
Chica: I hope we don't have to eat my cupcake.
Fush: Due to the standards of this, we may have to.
Frisky: He's right.
Oscar: I can't watch Tellatubies!
Star: Well, great. Him not watching it also has a disadvantage. When he's not watching it, he has more time to bug us.
Cuddles: I want Miwkey! (farts another rainbow)
Jessi: I HAVE AN IDEA! How about we kill Cuddles, and use his fur for something useful!
Everyone Else but Oscar: NO.
Jessi: Huh, fine.
Frisky: Let's get some sleep, guys.
Cuddles: (poops out a gum ball and cries)
Jessi: FOOD! THAT'S MINE!
Frisky: No way! Mine!
Polly: Mine!
(Everyone gets into a fight and cuddles poops 40 more gumballs)
Jessi: Despite the terrifying cute combo of Cuddles, this could help a little bit.
Fush: Guys, there are two reasons this won't help. 1. We need more than gum balls to survive. 2. Cuddles only poops gum balls when he's scared.
Frisky: Crap.
Frisco: I have and idea for food! Let's catch some fish!
Fush: AHEM.
Frisco: Come on, they're real fish, and you're an animatronic one.
Fush: Fine. We'll discuss the rest of our plans in the morning.
Kate the Cat: (holds cuddles) We're going to be alright.
Cuddles: Are you sure?
Kate: Yes, I'm sure.
(In the morning...)
Kate the Cat: Hey guy-... AHH!
Cuddles: I pooped 267 gumballs, and farted some bubbles.
Jessi: OH-COME ON!
Fush: Guys, let's first make some sort of shelter. We can go days without food.
Chapter 3: Making Decisions
Nightmare Fredbear: Alright, fish man. How are we going to build a shelter?
Fush: We will need some wood. But how can we get it?
Zara: I'm a beaver. I can easily chew down wood.
Fush: Good, then. Also, somebody please put cuddles to sleep? We can't have him whining 24/7.
Pungy: Okay, then. I'll do it.
Cuddles: I'm hungwy!
Frisky: You know, I sometimes wish I never adopted him.
Cuddles: Nobody likes me! WAAAAH!!!(poops out a hot dog)
Old western music that plays when the sherif meets the villain plays...
Slow Motion
Jessi: Fooo.....ooooo....OOOOD!
Frisco: Mine!
Aster: Psst, nope. That's mine!
Dylan: I'M TAKING YOU GUYS DOWN!
(A large food fight happens. Except this time, people aren't fighting with food. They're fighting FOR food.)
(Cuddles eats the hot dog)
Frisky: Well, this sucks.
Fush: It looks like we have food source. But will it be enough?
Marley: No, yo. We need more. Like-I mean-MORE.
Kelly: Then, what should we do?
Joel 2.0: Yeah!
Oscar: LET'S BLOW UP THE ISLAND AND CATCH WHATEVER FOOD GOES FLYING INTO THE AIR!
Star: (face palm)
Katie: Me and Polly can have a baby! Then we can use it as food!
Polly: Oh my gosh. Shoot me-PLEASE.
Bonnie: How? We don't have anything to shoot with!
Chica: I'm in the mood for some pizza.
Freddy: We all are.
Nightmare Fredbear: I'm in the mood for STEAK. MEDIUM RARE.
Freddle 1: RAAAAAH!
Nightmare Freddy: We must feed my "children", or they'll go nuts.
Polly: Then, let's get some food!
Feena: Ok. 
Fush: It isn't as easy as you think. We'll need weapons.
Frisky: Like a bow and arrow?
Fush: Well, yes, but that's to hard to make.
Foxy: Yarrrrr.... aren't the palm trees curved enough?
Fush: I suppose that could work. But where will we find string?
Dylan: Maybe Kate, Frisky, or Star will have some yarn.
Frisky: Nope.
Kate the Cat: No, I don't have any.
Star: Oscar took mine and threw it in the ocean.
Fush: Not to mention-we need to find a way to make arrows.
Kate the Coyote: We could use sharp wooden sticks.
Kelly: We also could try making a spear.
Freddy: Guys, you know doing things like this isn't easy. Right?
Frisky: Maybe it isn't, but we could try.
Jessi: I'm capable of punching down trees.
Polly: Guys, I'm going to go check on Zara. Be right back.
(Polly walks over to Zara.....)
Polly: Hey, how's it co...OH MY GOSH!
Zara: I know! We should have enough wood for 10 months or more!
Polly: Good. Also, should we use the dried palm leaves as a roof for our shelter?
Zara: We could try.
Polly: Also, we were discussing on making weapons. Do you think this is possible?
Zara: It may be!
Polly: Say, should we be concerned about that volcano?
Zara: Only if the ground shakes, we should.
(Fush walks over)
Fush: This should do for the shelter! Thanks Zara!
Zara: No problem. Now let's get building!
Chapter 4:Ouch!
5 Minutes Later...
Frisky: Boy! I'm hot. May we have a drink?
Cuddles: I'm happy!
Frisky(in his head):Please poop out Gatorade! Please poop out Gatorade!
Cuddles(poops a cute wittle kitten that looks like a cloud)
Frisky: UHHHHH!!!!! I NEED A DRINK!
Fush: Stop complaining like a mindless five year old and we WILL.
Chica: I could go for some Pizza!
Foxy: YARR! I want BEER!
Freddy: We don't have any of those things. NOW MOVE!
Pete(looks at the finished 1/6 of the shelter): Hmm.....my father taught me a little bit about building.
Polly: He did. I helped mom cook, though.
Pete: Guys! You're doing that wrong. Spring Trap, put the wood down!
Spring Trap: I'm making a statue.
Pete: You can do that later. Now "building experts", watch how a pro does it.
Pete takes a chunk of wood, which is about twice his size. He places it gently and sinks it into the beach's sand. He then uses washed-up clams to secure it into the ground. He repeats this process until the walls are finished.
Cloud Kitten: I want hugs!
Cuddles: Me too!
Marley: Great yo. That little runt can clone himself into different things that are equally as annoying as him. Yay.
Fush: GUYS....LOOK!
Frisky: WATER! CLOUD KITTEN IS RISING AND RAINING!
Cloud Kitten: WAAAHH! Nobody likes me!
Fush: It's okay!
Cloud Kitten: No-it's not ok!
Frisky(sticks his tongue out under Cloud Kitten)
Frisky: WATER! YES!
(A mini lighting bolt hits him)
Frisky: OWW!(moves away)
Cloud Kitten: WAAAAAAH!!!!!!
Jessi: THAT'S IT! Oh wait. He's a cloud.
(Cloud Kitten Blows up from some strong lighting he "farted out")
Jessi: Ok. That's over with.
Cuddles: I want miwky! If I don't, I'll blow up!
Fush(touches cuddles belly): He is becoming warmer...
Frisco: NOW WE CAN START A FIRE! Problem solved!
(Cuddles curls up in a rainbow ball of fluff and drifts into the sky)
Jessi: Am I dreaming? This is stupid.
Frisco(looking up): Ummmm.....Jessi?
(Cuddles bunks Jessi on the head, and then unrolls into his normal form)
Cuddles: I want to play!(turns blue instead of peach and his stripes turn orange. His belly turns to a white, bright color)
Jessi: Aww!
Frisky: Wow! Cuddles can actually shut up Jessi!
Jessi(turns to Frisky): WHAT NOW? 
Frisky: Ummm....LOOK STEAK!
Nightmare FredBear: WHERE?
Jessi: WHERE?
(Nightmare FredBear and Jessi run towards the forest)
Pete: Anyways....now we need a roof.
Fush: We do.
Zara: Guys, I think we're out of wood!
Dylan: Crap.
Rainbow Man: Hey, wait! Look at that shore over there! Wood!
Frisco: YEEEESSS! Wait, where's Joel?
Joel 2.0: I'm just taking a swim, that's all.
Kate: Well get out! It's to rocky in your area.
Joel 2.0: I like it that way!
Kate: He never listens! >:(
Star: Boys never listen.
Frisky: Oh crap....
(Jessi and Nightmare FredBear emerge from the surrounding forest)
Jessi: THERE WAS NO STEAK!
Nightmare FredBear: NOW GIVE US THE TIME AND DATE WHEN WE CAN MURDER YOU!
Cuddles(Gives Nightmare FredBear a warm hug)
Nightmare FredBear(picks up Cuddles and throws him at Oscar)
Cuddles:AHHH!!!!(hits Oscar)
Oscar(falls down): OWW!
Nightmare FredBear: GOAL!!!
Oscar: Idiot! You and Cuddles are Idiots!
Pete: Huh. Ok-while you idiots fight for 10 weeks, I'm actually going to get some work done by building the roof. I just need somebody to go get that wood on the other side of the beach for me.
Zara: Um, Pete? Weren't we going to use dead Palm Tree leaves?
Pete: Oh yeah, sorry. Could you hand me the pile?
Zara: Yes Sir!
(Zara crawls over to the pile and picks up about half of it in her teeth. She then crawls back to Pete, who is using some sticks he didn't notice were there before to make a ladder).
Katie(Yawns): Guys, I think we should go to bed. 
Cuddles(turns yellow in all places): I need miwky or I'll blow up!
Frisky: CUDDLES WILL DIE IF WE DON'T GIVE HIM MILK! Not only that, but we don't know the vastness of the explosion! 
Cuddles(poops out a baby bottle of milk)
Jessi: Great. We're giving that snot his own terd in liquid form? Seriously?
Star: Shut up.
Jessi: ME? No way! YOU'RE GOING DOWN STAR!
Frisky(Quickly gives Cuddles milk): There we go.
Cuddles: Yay!(turns back to normal, but is purple instead of peach and has yellow stripes)
Jessi: STAR, LET'S FIGHT!
(Jessi kicks star towards a tree)
Katie:STAR! 
Oscar: YAY! Star is dead!
Star: Uhhhh....uhhhhh........(passes out)
Frisky: Oh crap.
Chapter 5: One Down.
Frisco:STAR!
Joel 2.0: I'll go check on her.
Joel 2.0 walks over to Star...
Joel 2.0:Star, are you ok?
Star: I...I don't know.
Cuddles: Staw!
Cuddles runs over to star and gives her a warm hug.
Star: Aww...thanks. I don't fee...uhh...
Joel 2.0: Is anyone here a repairman?
Fush: I'm only a lifeguard.
Dylan: I made a hand-made phone before, but I don't have any repairing experience.
Bonnie: Ok then-I'm pretty sure none of us have repairing experience.
Aster: I'm going to go see what Pete's doing.
Rainbow Man: Me too.
(Rainbow Man and Aster walk over to Pete)
Aster: How's the shelter coming? 
Rainbow Man: He can't hear you. He's to busy yelling at Jessi like everyone else.
Aster: Well then, let's do the same thing!
Rainbow Man: JESSI, YOU KILLER
Aster: Umm...what would be a good insult? Oh yeah, JESSI, YOU CHEESE-HEADED NOSE PICKING SNOT EATING FLYING WAD OF AFRICAN BLAM MONKEY CRAP THAT EATS CRAP!!!!
Silence occurs.
Jessi:Well, if you think I have anger issues, I'll just go.
Polly: FINE! GO AHEAD!
Frisco: SNOT WAD!
Fush: How cruel people would do this. Being mean isn't the answer, guys.
Pete: NO ONE CARES! HE HURT A FRIEND!! NOW SHOE YOU TIN-HEADED BLOCK HEAD!
Dylan: FAT RAG!
Oscar: I like nachos!
Katie: NOSE PICKER!
Bonnie: How cruel. Some don't even forgive.
Cuddles: I'm going with Jessi! You snot wads can't forgive him! GO EAT YOUR CRAP YOU CRAP LORDS!
Everyone:HUUUH!
Cuddles(jumps into Jessi's arms): I forgive you.(warms up)
Jessi: Aww! Thanks!
Cuddles:Let's build a shelter!(poops out a Big Mac)
Jessi: Food! However, since you are the only one who cares about me, I'll share it with you.
Cuddles: Thanks! But...we should forgive our fwiends!
Jessi: Maybe we should.
Jessi(walks back over):Guys, all those things you said about me were true. I am an idiot for...
Katie(interrupts):KILLING STAR???
Jessi: Yesssss.......WAIT, WHAT?
(sad music plays)
Frisky(crying):Star!(sniffles)
Jessi(walks over to Star):Star? Are you here?
Star:
Jessi:STAR! STAR!! YOU HAVE TO WAKE UP!
Star:
Jessi:(starts to cry for the first time in his life):Noo...NOOOO!!!(sniffles)
Jessi(picks up Star): If we make it out of her..here....(sniffles)..we will fix you. And if we don't......you...you...will always be remembered! I'm such an idiot.
Pete: Jessi, it isn't your fault. You were born like that, and we know that even if you do have outbursts, you will always be here to protect us.
Jessi: Let's finish our roof. 
Dylan:We should. But still, look at the pretty sunset!
Everyone: Oooooooooohh! Pretty!
Frisky(Looks at the sunset):Star will always be remembered, even if we can fix her. One down.
Pete: I'll go work on the roof. Joel, go in the water and catch some fish. Others can help. Some of you go look for some shells and oysters as decorations for our hut-because-why not? Out shelter will look nicer. Others get wood and find useful things.
Marley: Can we go into the forest?
Fush: Umm...sure....but stay on veiw.
Zara:Ok, thanks.
Later on...
Pete:The roofs finished! Now, we just need to make a fire.
Porky(looks at the hut):Wow! That's nice! It has way more than enough room for all of us!
Pete: Yep. Guys, check it out!
(Everyone goes inside)
Everyone then compliments it.
Kelly: Hm, I wonder how we can make beds.
Pete:Well, let's sleep in here on the sand, and then find out! Sometime, we might even be able to make flooring! Then shelves, and then more things!
Chapter 6:Not Dead-But Gone.
In the morning...
Pete(Wakes up):Wow...ehhh...morning guys!
Fush:Mmmm....
Frisco:TURTLE MURTELZZ....GAAH!
Polly:Uhhh...morning.
Katie:I stayed up all night and watched Polly sleep! He was so peaceful-so beautiful!
Polly(talking in a scared, sarcastic voice):Woww.....nice!!!!
Polly(runs screaming)
Cuddles:I pooped out happy things! I pooped out a bunny ball!
Frisky:Um, what's a "Bunny Ball?"
Jessi: I was awake killing them. You see, Bunny Balls are cute and cuddly neon-blue colored fluffy bunny a that are literally just bunnies with only ears and a face. They look cute, and make cute noises too, but are just...GUH.
Cuddles(weeping):You(sniffle)...killed the bunnies?(another sniffle)
Jessi:Um, yes. So what?
Cuddles:WAAAAHH!!!!!!
Jessi: I suppose we need to make a cage for him.
Pete: Jessi! What would those bunnies even do?
Jessi:Turn this place into baby land.
Pete:Okay, whatever. But he's not being trapped!
Marley:Yo, uhhh..........
Porky:Marley!
Marley:I..feel......weird....my stomach......em....ty.......
Porky:I'm hungry too...
Frisky:Uhhhh.....
Oscar(runs into the so-far empty shelter):GUYS! I FOUND A SURVIVAL KIT!
Ruffy:Yes! Where is it?
Oscar:I used it to make a hat!
Oscar(pulls out an empty survival kit)
Marley:Okay...uhhhh...but where's the supplies?
Oscar: I ate it!
Everyone:Oscar!
Oscar:What? I thought it was full of pickles!
Jessi:I would've recommended we just destroy Oscar, but Ruffy would yell at me like a fat chimp who sucks on walls and wastes their whole life reacting the crap-Jack Nickelodeon show Fanboy and Chum Chum by screaming like mindless forsaken 5-year olds who got drunk and smoke 40 cigarettes a day while kicking turtles.
Ruffy:What?
Pungy:Okay, I'll pretend that made sense.
Kelly:Well, instead of having a 24-hour conversation about whatever crap Jessi just said, maybe we should focus on our food situation.
Rainbow Man:You know, maybe since Pete is adept as construction, he can add some stuff to the place while the rest of us get food! In fact, maybe we should even split into groups.
Dylan:That's a good idea.
Kate:I know. Pete, are you okay with it?
Pete:Yes. I now announce my self the new group leader! I will organize our groups and do more stuff like that.
Fush:Woah, hold it right there!
Pete:Why?
Fush:Well, I announced my self group leader earlier!
Pete:Oh yeah? Well, guess what? I'd make a way better leader than you!
Fush:Psst, yeah right! I'm adept at just about everything that we'll encounter on this possibly deserted island!
Pete:Sure! You're just some fish! I can't believe we wanted someone with a lack of design like you to be elected as the group leader!
Frank:Guys, don't fight.
Pete:Quiet! We're fighting!
Frank(rolls eyes)
Fush:Guys, let's elect a new leader. Who's for me? If you are, raise your hand.
(Nobody raises their hands)
Pete:All for me raise your hands!
(Everybody raises their hand)
Pete:In that case, I'm now officially the new leader! And Fush, get lost.
Fush:Wh...what?
Pete:Yeah! You can't help us. Now shoo! Let the true survivalists handle this.
Fush:Alright. I'm leaving. Have fun, jerks.
Cuddles:Wait! I waited my hand for you!
Fush:Aww, you did?
Cuddles:Yes! Can I come with you?
Fush:Sure thing! Hop on my head! 
Cuddles(turns green):Yay!(hops onto Fush's head)
Frisky: Cuddles! We...we need you! Come snuggle with us! 
Cuddles(spits his tongue at Frisky):Your mean!
Frisky:Fine! Leave us!
Fush:Good luck making TOOLS!
Frisky:Just get out.
Fush(hugging Cuddles in his arms):Fine. See you later.
(Fush walks off into the forest)
Pete:Well, since he's gone, let's get back to work.
Chapter 7:The Truth
Pete:Boy, it's warm.
Marley:Gruhhh.....
Frisky:Foood.....
Polly:Okay then. We need food.
Feena:Fush knew all about how to find food.
New Fush:I'm still here.
Feena:Well, okay, but...
Dylan(finishes):Fush knows...or knew...more about finding food.
Oscar:GUYS! I HAVE NEWS THAT WILL BLOW YOUR MIND!!!
Porky:What is it?
Oscar:THE SKY-IS BLUE!!!!!!!! AND I'M THE FIRST TO DISCOVER IT!!
Frisky(face palms)
Marley:I want to eat....I MEAN wonder how Fush is doing.
Fush and Cuddles's point of view...
Cuddles:I'm Scawed! I might poop a Micey Dicey!
Fush:Ummm...a...Micey Dicey?
Cuddles:They're snugwy mouse bwocks.
Fush:Oh great.
Cuddles:Wewe(we're)alweady being fowowed by 7 Bunny Balls. 
Fush(in his mind):What's next-a Kitty Knitty made of yarn? Bouncy Hounds? Cotton Candy Faries? Rainbow Jelly-Bunnies?
Cuddles:I may also poop out Kitty Knittys, Bouncy Hounds, Cotton Candy Fawies, Wainbow Jewy Bunnies, and many mowe Snugglies.
Fush(In his mind):Oh-COME ON!
Fush:So...those cute yet insanely annoying things are called Snugglies? How stupid. 
(all the bunny balls begin to cry and roll around like 3-year olds.)
Fush:Well...AWWWW!!!!!They're so cute!
Cuddles(Turns into a marshmallow to fall safely off of Fush)
Cuddles(Returns to normal self-but turns pink with a white belly)
Cuddles:Guys, it's okay.
(The Bunny Balls blow up into confetti and pink dust) 
Cuddles(starts to sniffle):They'we(They're)...(sniffle)They'we...DEAD!!!!!WAAAAAHHHHHH!!!!!
Cuddles(turns blue and begins to poop out rainbows and Candy)
Fush:This is the real reason I want a gun.
Cuddles:I'M WUNNING AWAY!!!!WAAAAAHHHH!!!!!!
Fush:Cuddles, come back!
(Fush proceeds to run after Cuddles, but trips over a log)
Back to the others point of veiw...
Porky:Hi Pete! Whatcha doing?
Pete:Uncovering some sand so I can give our hut a floor is all.
Porky:Okay. Need any help?
Pete:Umm, no tha...
Pete(uncovers some metal machine thing):Ummm....Porky?
Porky:Yes?
Pete:Wh....what the heck is this?
Porky: Let me see. Hand it to me for a sec.
(Pete hands the strange machine to Porky)
Porky:Hmmmm....
(Brushes off some sand)
Porky:This says....NO-it can't be!
Pete:Can it get us off of this island?
Porky:No. It says, "OSCAR'S MIND CONTROLER."
Pete:Wait...wasn't Oscar holding something when we chased Fush away?
Porky:I think so. And-it looked like this!
Pete:So...
Porky:Wait! What if Oscar used that to...
Pete(finishes):Control our minds!
Porky:No...even someone as stupid as Oscar couldn't have made that!
Pete:Well-doesn't he usually go through dumpsters on the look for a hamburger that looks like a pickle-or maybe even one WITH a pickle?
Porky:Well, yes! It's unbelievable. That's how he got those torn boxing gloves.
Pete:Which ones?
Porky:The ones he wears to punch the walls because he thinks they contain soda.
Pete:Geese...he's dumb.
Porky:Well, there is a smart penguin here.
Pete:Well, who's tha...oh yeah. Pungy. He's pretty good at serving food, like me!
Porky:Well, true, but he's been serving food for decades! His main job was at that one diner.
Pete:Yeah. I dislike some of the versions where he had long legs. I like the oldest one. And he's still in mint condition!
Porky:Well, yeah. But enough about that. We need to go show this to Oscar.
Pete:Right. Now, give it to me.
Porky:Well, why do you need it? Is there anything wrong with me holding it?
Pete:Well, there's nothing wrong with me holding it either. So in that case, come on, give it over.
Porky: No.
Pete:Your hooves are probably slippery from all that mud. Now hand it to me.
Porky:Nope.
Pete:YES.
Porky:No
Pete:YES.
Porky:No.
Pete:YES.
Porky:No.
Pete:YES.
Porky:Gah, alright. Have it your way!(tosses it to Pete and turns around angrily)
(Pete and Porky walk out of the hut.
They then find Oscar-trying to make a real fishing rod with grains of sand)
Pete:Oscar?
Oscar:Yes? Also, whatcha holding being your back?
Pete:Is this yours?(pulls the machine from behind his back)
Oscar:Ummm....that's....OH LOOK!!!! A PLANE!!
Pete:Don't fool us Oscar. We know you controlled our minds when we talked to Fush!
Oscar:Stop watching love stories-ummm-THEY'RE CONFUSING YOU!!!!
Pete: Stop making stuff up. You know you controlled us! Now, why did you do it?
Oscar:Ummm.....let's talk about pigeons!
Porky:No. Instead, let's talk about the meaning of this.
Oscar:Okay then, I'm trying to make a fishing rod with grains of sand!
Pete:THAT'S NOT POSSIBLE! Now, what we mean is what is up with the machine?
Oscar:Ummm.....I LIKE NACHOS!
Porky:Alright y'all, enough distractions! Did you REALLY think we would just switch this topic to-PIGEONS?
Oscar:Yes.
Pete:What do you think we are? Stupid?
Oscar:Yes.
Porky:You're the stupid one!
Oscar:No. You are.
Pete(kicks Oscar into the shallow water):Why did you do it?
Oscar(limping and coughing):Did you...*cough cough*....really have to do that?*cough cough*
Porky:We'll kick y'all farther into the salty sea if you don't start talking.
Oscar:Okay, I'll talk. So, I think there's a sea-serpent that eats horse sh...
Pete:NO CUSSING!
Porky:Why did you control us?
Oscar:Yak yak yak.
Porky:Y'all better quit using that language! 
Oscar:YIKA YIKA YIKI YICKI YACK!!!!
Porky:Pete, kick em' again.
Pete:On it.
Oscar:WAIT! Okay, I can explain. You see, while everyone was doing "important" things, I was rummaging through sand over by that one big rock that looks like a melted pickle. I the...
Porky:Woah, woah, WAIT.
Oscar:What?
Porky:How do you know what a melted pickle looks like, and why do you relate everything to pickles anyway?
Oscar:Long story. Now, AS I WAS SAYING....I then found some rusty old machine behind the stone. It's the one you're holding now. I picked it up, and saw what it said. I did some work with it, and made it mine. Anyways, I always wondered what it would look like if Fush and you(turns his head to Pete)got into a fight. So I tested it by doing some moves of the knob, which made it like a puzzle. Some way or another, it worked. I decided to undo it and then bury it so no one could see it.
Pete:Okay. But, why didn't you tell anybody?
Oscar:Well, because I thought you guys would take it and use it for no good.
Pete:Well, we would use it for good. In fact, you were the one who used it for no good.
Oscar:Well, there are TONS of you here.
Porky:Well...okay. Thanks for telling us. But now, we have a big problem! We have to go get Fush and Cuddles back.
Pete:True. In that case, we'll need a team. They're probably far off into the forest by now.
Porky:Hm, let me see if they can hear us.(Now Yelling)FUSH????     CUDDLES??????
Pete:Crap. Listen, I'm gonna tell everyone about this, and we'll assemble a team as soon as possible.
Porky:But...we also need food.
Pete:Well, now we have two problems.
Oscar:Hang on.(dives into the water)
15 minutes pass. Pete and Porky are a little annoyed, while everyone else is doing stuff to help. Oscar then emerges from the water with something good.
Oscar:Hey guys! I caught 10 fish!
Pete:WOAH!!!
Porky:Wow y'all! 
Pete:Could you get some more?
Oscar:Sure!
15 Minutes Later...
Oscar(emerges from the water):I caught 17 this time!
Porky:Now, we need to make a fire to cook it.
Pete:Right. Let's go check on the others.(looks at the sky)Hm, I say it's around noon.
Oscar:Well, let's see what the others have accomplished so far.
Pete:Not only that, but I'll tell them what happened-and what we need to do.
Oscar:Okay then. In that case, let's go.

Chapter 8 Coming Soon..
Ad blocker interference detected!
Wikia is a free-to-use site that makes money from advertising. We have a modified experience for viewers using ad blockers

Wikia is not accessible if you've made further modifications. Remove the custom ad blocker rule(s) and the page will load as expected.