---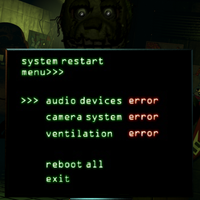 "The systems are in need of rebooting."
This article is a stub. Please help by editing and adding more information to the page. However, you must have permission from the creator of the page, unless you are that said creator, then edit to your heart's intent!
---
(Foxy takes out diamond ring) Foxy:I want to ask her but i cant! Mangle: Foxy just do your best no matter what she will accept! Just be you! Foxy: Ok! (scene cuts to snowstruck singing firework) Snowstruck: YOU JUST GOTTA IGNITE THE LIGHT. AND LET IT SHINE. JUST OWN THE NIGHT. LIKE THE FORTH OF JULY. CUZ BABY YOUR A FIREWORK!!! (camera pans down to foxy sitting on top igloo. Foxy: Even her voice sounds like diamonds. Snowstruck: Hey foxy! (foxy screams) Snowstruck: Watcha got? Foxy: Oh nothing just a diamond ring to.. uh... Put in my tresure chest Yeah! Be right back! Snowstruck: Ok?? dont know what hes up to! (scene cuts to pirate cove where foxy is singing [song and lyrics coming soon] a song about asking snowstruck to marry him) Mangle: Foxy i told you be yourself! Foxy: I know! but how will i tell her? (camera pans to diamond ring) !!!TO BE CONTENUIED!!!
Ad blocker interference detected!
Wikia is a free-to-use site that makes money from advertising. We have a modified experience for viewers using ad blockers

Wikia is not accessible if you've made further modifications. Remove the custom ad blocker rule(s) and the page will load as expected.