Ad blocker interference detected!
Wikia is a free-to-use site that makes money from advertising. We have a modified experience for viewers using ad blockers

Wikia is not accessible if you've made further modifications. Remove the custom ad blocker rule(s) and the page will load as expected.
---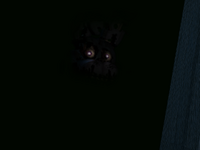 It could be there...
This article is a stub, please fix it by expanding its content, aslong as you have permission from the creator, unless this is your page, then go ahead and edit to your delight!
---
(Foxy takes out diamond ring) Foxy:I want to ask her but i cant! Mangle: Foxy just do your best no matter what she will accept! Just be you! Foxy: Ok! (scene cuts to snowstruck singing firework) Snowstruck: YOU JUST GOTTA IGNITE THE LIGHT. AND LET IT SHINE. JUST OWN THE NIGHT. LIKE THE FORTH OF JULY. CUZ BABY YOUR A FIREWORK!!! (camera pans down to foxy sitting on top igloo. Foxy: Even her voice sounds like diamonds. Snowstruck: Hey foxy! (foxy screams) Snowstruck: Watcha got? Foxy: Oh nothing just a diamond ring to.. uh... Put in my tresure chest Yeah! Be right back! Snowstruck: Ok?? dont know what hes up to! (scene cuts to pirate cove where foxy is singing [song and lyrics coming soon] a song about asking snowstruck to marry him) Mangle: Foxy i told you be yourself! Foxy: I know! but how will i tell her? (camera pans to diamond ring) !!!TO BE CONTENUIED!!!