Ad blocker interference detected!
Wikia is a free-to-use site that makes money from advertising. We have a modified experience for viewers using ad blockers

Wikia is not accessible if you've made further modifications. Remove the custom ad blocker rule(s) and the page will load as expected.
---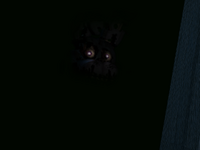 It could be there...
This article is a stub, please fix it by expanding its content, aslong as you have permission from the creator, unless this is your page, then go ahead and edit to your delight!
---
NOTE:Remember they are some parodies like boot on the head (fnaf version) or fnaf 0 on this wiki but this is parody of humor xD the original was adsf movie.
Freddy:hahha
Springtrap:I got you nose *hold freddy nose*
Golden Freddy:Look out he got a nose! *shot at everything*
THE END.