---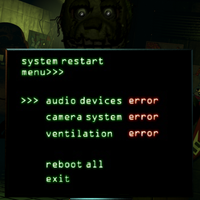 "The systems are in need of rebooting."
This article is a stub. Please help by editing and adding more information to the page. However, you must have permission from the creator of the page, unless you are that said creator, then edit to your heart's intent!
---
NOTE:Remember they are some parodies like boot on the head (fnaf version) or fnaf 0 on this wiki but this is parody of humor xD the original was adsf movie.
Freddy:hahha
Springtrap:I got you nose *hold freddy nose*
Golden Freddy:Look out he got a nose! *shot at everything*
THE END.
Ad blocker interference detected!
Wikia is a free-to-use site that makes money from advertising. We have a modified experience for viewers using ad blockers

Wikia is not accessible if you've made further modifications. Remove the custom ad blocker rule(s) and the page will load as expected.