This character is an abandoned character that was once at
Fredbear's Family Diner.
He was replaced with BB in later pizzerias made by the managers because he smelled like disgusting jam and rotten apples. He now haunts all the Freddy Related pizzerias only showing his eyes, asking for help to be re-enabled again by someone he trusts, Never to be seen at day, only to be hallucinated at night, has that menacing laugh and that creepy stare, Him and BB are related through brother ship, they used to give out free balloons and free Jam of any flavor, until one of the kids spewed on his jam and sign saying "free jam!" then she had to be disabled because the kids spew was acidic and could not be removed. After that BB drew pictures of them in the security guards office asking him for help with re-enabling JJ with a laugh so creepy and paralyzing the security guard cant even move to turn the torch on.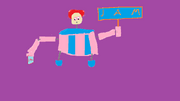 Ad blocker interference detected!
Wikia is a free-to-use site that makes money from advertising. We have a modified experience for viewers using ad blockers

Wikia is not accessible if you've made further modifications. Remove the custom ad blocker rule(s) and the page will load as expected.