Kate The Cat is a animatronic cat. She is female. She was used at Fazbear Funhouse. She starts in The Reading Area.
Voice
2026 - 2030 Katie Smith
2037 - 2037 Jenny Rogers
2107 - 2109 Sophia Barnard
Appearances
Appearance
She has rosy cheeks, Pink fur and a yellow bow tie. Some of her body is white. She is made of plastic. She is a toy animatronic.
Counterparts
Jessica the Cat: Jessica was a early prototype version of Kate that was going to be used at Fazbear Funhouse, but she was scrapped and replaced with Kate.
Kate 5.0: Kate 5.0 is a pink cat animatronic with a yellow bowtie and two black buttons on her chest. She is pretty withered.
Kate 6.0: She is very shiny. She has a black top hat with a red stripe on it and a yellow bowtie. She still has red cheeks. She carries around a brown cane.
Phantom Kate: She is very burnt, her eyes are black/white. Her left arm's felt is gone revealing her endoskeleton. Her ear's felt is gone to revealing her endoskeleton ears. Her waist is also burst open.
Fan Art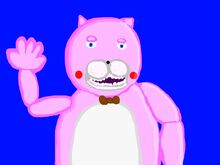 Ad blocker interference detected!
Wikia is a free-to-use site that makes money from advertising. We have a modified experience for viewers using ad blockers

Wikia is not accessible if you've made further modifications. Remove the custom ad blocker rule(s) and the page will load as expected.