Koko the samurai coyote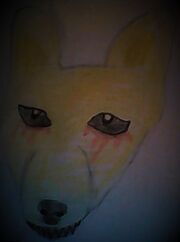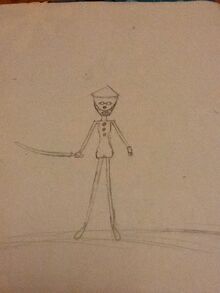 Appearance
coyote, male animatronic with very thick yellow fur very sharp teeth that sometime vary from white to red, a brown hat that he normally hangs around his neck and a samurai sword with a green handle, with big green eyes and a big black nose, he has big puppet like buttons, big long ears that are quite thin his shirt is light blue and body a bit thicker than the puppet, sometimes his eyes turn from green to black or red
Back story
He was originally made to take the puppets place because the puppet creeped people out. but then they decided to scrap the idea and leave him and then a new creator decided to take the idea but leave the puppet like jacket and just turn it blue so instead of his fur being black it turned yellow and and they gave him a hat and a samurai sword.
Occupation
He was meant to function like the puppet but the new creator wanted to do something else, now he functions as a solo singer and he normally howls in the middle of a song. Sometimes he sings in the middle of the night "yoddalehiho i'm coming for you".
behaviour
He stays at samurai's cove which is next to pirates cove. He likes to mess arround with the othe animatronics by howling and his howl echoing throughout the pizzeria. because he has such a slim body he doesn't need to stay in the vents long instead he just goes through easily into your office and you cant even hear him going through. sometimes he will just leave but sometimes he stays for awhile and if he stays for awhile he howls calling other animatronics even if he doesn't like them.
Relationships
Mangle
He likes mangle and mangle does not mind him
Chica/Toy Chica
He hates Toy Chica and likes Chica strangely enough.
Freddy/Toy Freddy
He hates Freddy and does not mind toy Freddy
Foxy
Foxy is one of his close friends. bonnie and bonnie 2.0 he hates but doesn't mind to work with he can go in the same room as foxy Chica and Mangle but no one else because
Fauna
Fauna and him are in a relationship
Howl
howl is his son
Kashikoi
he is Kashikoi's bigger brother
Trivia
He only likes Foxy Chica and Mangle.
Also
This is not my character, I simply made this character for my friend MakaKishinKiller, all credits go to her.
Ad blocker interference detected!
Wikia is a free-to-use site that makes money from advertising. We have a modified experience for viewers using ad blockers

Wikia is not accessible if you've made further modifications. Remove the custom ad blocker rule(s) and the page will load as expected.