---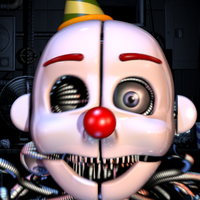 "You must let us in that room."
The page is public, meaning you can edit the page to add content that the creator finds acceptable. However, vandalism or editing other people's work without permission is definitely not tolerated. If any of the admins find out of your vandalism to a page, you will be blocked accordingly and the edit will be reverted. If the creator of the page offers any rules about editing their page, follow them.
---
Add any ships for characters, be them animatronic or human, here. Be sure to add them to either the "Canon" or "Non-Canon" section so that they can be distinguished!
Ships that have not been supported in at least one Roleplay or Story will go into Cracked Pairings for reasons.
Canon Ships
Julian the Bat x Megumi the Fox
King Freddy x Queen Chica
The Puppet Queen x King Freddy
Milo X Shylee
Rexy the T-rex x Dilly the Dilophosaur
Larry the Lizard x Amy the Axolotl
Risa the Raccoon x Larry the Lizard
Golden Toy Foxy x Mangle
Larry the Lizard x Amy the Axolotl
Amethyst the Kitten x The Voice in The Darkness
Stiletto x Cyanide and/or Ru and/or Xenon
Diamond Foxy X Puppet (in my opinion puppet = girl)
Non-Canon Ships
Spongebob x Lindsay Kingsland (only appeared in one thread)
Balloon Boy x JJ
Xavier X Lindsay (Something DB has been wanting to be canon for a long time now I bet.)
Cracked Pairings
"A ship that is so ridiculous and makes no sense, but people still support it for some reason."
Sangeruis x Anyone
Springtrap x Benny Rabbit (wth they are the same thing)
Mr. Handy x Lindsay (You all knew it would appear on this page SOMEtime.)
Spongebob x Mrs. Handy (They're called joke ships, okay?)
FeMIB x MIB (Im guessing you didn't expect this one.)
Charlotte The Cat x Spam (I'm pretty sure this would might be a joke ship)
The Voice in The Darkness x Clarrisa (I keep thinking this should be real)
Lindsay x King Freddy (From the demented mind of yours truly...)
Withered Jack 2.0 (Golden Toy Foxy 2.0) x Mangle (WJ's Revenge)
Phantom G.T. Foxy x Lindsay Kingsland
Holly the Fox x Neko (THIS IS A JOKE!)
Stiletto x Every male character (It's almost true, sadly enough...)
Fredbear x The Paper Plate on the Far Right side in Party Room 4
Ad blocker interference detected!
Wikia is a free-to-use site that makes money from advertising. We have a modified experience for viewers using ad blockers

Wikia is not accessible if you've made further modifications. Remove the custom ad blocker rule(s) and the page will load as expected.