"...and that Mangle one....well we don't mention what that one did..."
                -Phone Guy, Night 1 of Five Nights at Freddy's 3: Fazbear Funhouse.

The Mangle returns in FNAF3:FF. She appears almost the same, already being a Mangled Mess in FNAF2, however now her ear is ripped.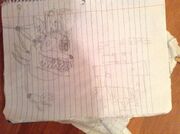 Behavior
The Mangle can attack through the hallway, the right vent, and the left door. Her jumpscare makes the same noise as almost all the other animatronics. She can appear on the following cameras:
Back Room
Show Stage
Fazbear Fun Hall
Dining Area
Left Hallway
Left Corner
Right Vent
Ad blocker interference detected!
Wikia is a free-to-use site that makes money from advertising. We have a modified experience for viewers using ad blockers

Wikia is not accessible if you've made further modifications. Remove the custom ad blocker rule(s) and the page will load as expected.