---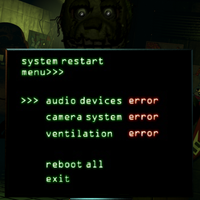 "The systems are in need of rebooting."
This article is a stub. Please help by editing and adding more information to the page. However, you must have permission from the creator of the page, unless you are that said creator, then edit to your heart's intent!
---
Martin the Mole is a mole animatronic who works as a party host in the pizzeria. He was introduced in 1982, along with
Aaron the Armadillo
and Ella the Ermine. He has since been a well-known animatronic in both Fredbear's Family Diner and Freddy Fazbear's Pizza.
Backstory
Martin was the second of three new animatronics built by Fredbear's Family Diner to accompany the existing four. He entered service a few weeks after Aaron, and became a popular party host among young children. Martin was constantly being touched and played with until 1986, when the restaurant was bought out by Fazbear Entertainment, leading to him being in a bad state of disrepair. He was put up on display in the restaurant's lobby in 1987, when it was renamed Freddy Fazbear's Pizza.
Appearance
Martin is quite short and wide, and has dark brown fur and a skintone face. He has tiny ears, as well as green eyes and a small pink nose.
More coming soon.
Ad blocker interference detected!
Wikia is a free-to-use site that makes money from advertising. We have a modified experience for viewers using ad blockers

Wikia is not accessible if you've made further modifications. Remove the custom ad blocker rule(s) and the page will load as expected.