"i always wondered what were in those empty heads back then... oh no..." - Part of the tape where phone guy gets killed by Myn Baisp Gap in Night 4
NOTE: YOU DO NOT NEED PERMISSION FROM ME TO USE THIS CHARACTER.
Myn Baisp Gap

Some attributes

First
Pretty much a grouchy [somewhat] kind of Fox... Animatronic
Second
Unknown
Third
Unknown

Other attributes
Character Bio
Myn Baisp Gap uses a similar model of Foxy, but is grey, has endoskeleton eyes, has a scar on left eye, several cuts on his torso, and has a missing jaw and right hand. Myn Baisp Gap was murdered by 50712 from a suicide attempt, then revived as the grey fox by T̮͛̂͗̓͂͒ͩ͠h̞̥̓ͧ͒͋ę̪͑̎ͪ̑͗ͫͦ ̢̤̜̼̜̬̍ͩͪ̆C̹͙̓ͨͨͯ͗ͯ̄ṟ̣̯̺͐͘o̤̞̥̳̰͍̊̇ͪ̈́̊̒ͅw.
Backstory
Myn Baisp Gap was created by the owners of Fredbear's Family Diner, but was never used, and was the FIRST version of foxy. Myn Baisp Gap was originally a child from japan who was born in 1994 and died in 2007. Him and his parents moved to america and everything was alright except that he had trouble in his new school. One day, at lunch, a 15-year old bully who got held back from 8th Grade 2 times, picked on him, calling him "Godzilla" and "Jackie Chan" since he was from Japan. The boy gave up all hope and bit the bully on the right arm, causing a fight between the boy and the bully. During the fight, the bully made several scratches on the boy's torso, a scar on his right eye, and even broke his left hand and jaw. After the injuries, the principal had to put an end to this once in for all.
Later that night after that incident, Myn Baisp Gap wrote a letter on his bed, saying goodbye to his parents and the cruel horrid earth, and took a gun from the kitchen table while the parents were sleeping. The child went outside and to the abandoned Freddy Fazbear's Pizza, sobbing. Then, he heard a noise from behind. Before he even had a chance to look, a metal blue hand with a white glove on ripped through his chest, killing him. 20 seconds after, Foxy went outside hearing a scream as his friends were dog tired and spotted blood on the grass and a gun. He backed away, turning around, to be greeted by the grey fox leaping onto him, attacking him. During the attack, Foxy scratched him with hook on the torso 2 times and on his right eye. Then, the fox attempted to bite him, but Foxy managed the block it with his right hand, then pulling it back, bringing the jaw with it.
Counterparts
Phantom Myn Baisp Gap [OLD] [ALL OLD]
Phantom Myn Baisp Gap shares the same look as the original version but is a bit darker, and has the phantom texture like the other phantoms, except that he can actually kill you.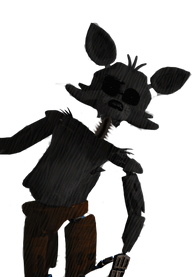 Jumpscare
Phantom Myn Baisp Gap has the same jumpscare as Withered Bonnie from fnaf 2, and that, again, he is the only phantom animatronic that CAN kill you.
Behavior
Phantom Myn Baisp Gap can occasionally appear in either cam 02 or cam 05. The behavior is very similar to Phantom Chica and BB, but will still jumpscare you even if you switched the cameras and, again, can actually kill you.
Silver Foxy [OLD]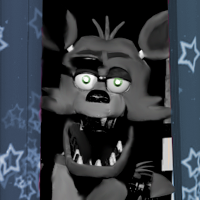 Since toy animatronic are meant to be kid friendly, Toy Myn Baisp Gap has few MAJOR differences and that his name is now Silver Foxy. He has MUCH smoother texture, he NOW has eyes and unlike his original counterpart who shows his endoskeleton eyes ALL THE TIME, Silver Foxy NEVER shows it, he also has green irises for now having eyes, he is now always good, and that pirate's cove now has blue curtains instead of purple.
Form
Were-Fox
Backstory
After the fight between Myn Baisp Gap and Sonic.EXE in 2028, the fox was injured badly and collapsed to floor after a minute. 2 hours later, Myn Baisp Gap woke up in his old house. After a brief moment, he then looked at his right wrist, horrified as he saw his new hand and that his fur was now almost black.
Allies
NOTE: THIS, NEUTRAL AND THE ENEMIES ARE THE ONLY SECTIONS THAT ARE PUBLIC.
Foxy
Golden Freddy A.K.A. Fredbear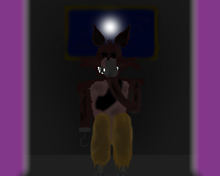 Neutral
NOTE: THIS, THE ALLIES AND THE ENEMIES ARE THE ONLY SECTIONS THAT ARE PUBLIC.
Freddy Fazbear
Bonnie
Chica
Mangle
Silver Foxy
Springtrap
Toy Freddy
Toy Bonnie
Toy Chica
BB
The Puppet
Enemies
NOTE: THIS, THE ALLIES, AND THE NEUTRAL ARE THE ONLY SECTIONS THAT ARE PUBLIC.
Purple Man
50712
Trivia
Myn Baisp Gap is one of Foxy's counterparts. The others being: Foxy 1.0, Mangle, Toy Fox- I mean FUNTIME Foxy, Silver Foxy, Phantom Myn Baisp Gap, Phantom Foxy, Phantom Mangle, and Nightmare Foxy & Adventure Foxy... & Other ADVENTURE Foxies.
Phantom Myn Baisp Gap is one of the 3 Phantom Foxies, the others being Phantom Foxy and Phantom Mangle.
Myn Baisp Gap's name originated from a mistake the creator made when putting the extra letters from some of the words from the "Beta Testing Successful" announcement for FNaF 3 by Scott Cawthon together.
Silver Foxy is one of the toy animatronics to not have the word "toy" in their names, the other being Mangle, BB, and The Puppet. And JJ. =T
Myn Baisp Gap is one of animatronic spirits, the others being 50712 and The Heartless Fox.
Gallery [OLD]
Other Pictures
[1]
Which Animatronic Spirit is your MOST favorite?
Who caused The Bite of '87? (BESIDES FREDBEAR IN WHICH THAT WAS IN '83)