NEW SERIES COMING SOON! Animatronic High (Clicky, clicky!)
Comments

4
Share
---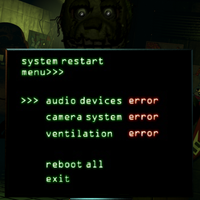 "The systems are in need of rebooting."
This article is a stub. Please help by editing and adding more information to the page. However, you must have permission from the creator of the page, unless you are that said creator, then edit to your heart's intent!
---
Hi, I'm coming up with a NEW series! Called:Animatronic High! And it will feature:
Romance
Hurt/Comfort
Violence
Suspence
Horror
Comedy
Drama
And Much More!
Characters:
EVERYONE IN THE FNaF QUADRILOGY!
Setting:A high school built for animatronics. Back in 1974-1975, WAY long before Fredbear's Family Diner!
Animatronics and humans will be in this series. YEAH, U HEARD MEH! HUMAHNZ! Lol! This episode is going to be posted soon. Like, RIGHT NOW!
Hope u enjoy!
Ad blocker interference detected!
Wikia is a free-to-use site that makes money from advertising. We have a modified experience for viewers using ad blockers

Wikia is not accessible if you've made further modifications. Remove the custom ad blocker rule(s) and the page will load as expected.