NEW SERIES COMING SOON! Animatronic High (Clicky, clicky!)
Comments

4
Share
Ad blocker interference detected!
Wikia is a free-to-use site that makes money from advertising. We have a modified experience for viewers using ad blockers

Wikia is not accessible if you've made further modifications. Remove the custom ad blocker rule(s) and the page will load as expected.
---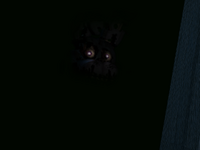 It could be there...
This article is a stub, please fix it by expanding its content, aslong as you have permission from the creator, unless this is your page, then go ahead and edit to your delight!
---
Hi, I'm coming up with a NEW series! Called:Animatronic High! And it will feature:
Romance
Hurt/Comfort
Violence
Suspence
Horror
Comedy
Drama
And Much More!
Characters:
EVERYONE IN THE FNaF QUADRILOGY!
Setting:A high school built for animatronics. Back in 1974-1975, WAY long before Fredbear's Family Diner!
Animatronics and humans will be in this series. YEAH, U HEARD MEH! HUMAHNZ! Lol! This episode is going to be posted soon. Like, RIGHT NOW!
Hope u enjoy!