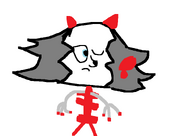 ---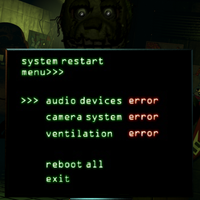 "The systems are in need of rebooting."
This article is a stub. Please help by editing and adding more information to the page. However, you must have permission from the creator of the page, unless you are that said creator, then edit to your heart's intent!
---
Looking for the last 3 versions Snowstruck Destruction Toy Snowstruck Phantom Snowstruck Nightmare Snowstruck is a nightmare version of Snowstruck Destruction
Backstory
The animatronics found out everything and got mad at snowstruck. They threw her at the ground and unstitched her scar. Blood was coming down from her neck (cuz of the kid that was stuffed in her suit) and her scar became very bloody. Snowstruck had no coice but to kill the night guard, Or else the animatronics will get rid of her (except foxy of course). She doesn't do any thing to protects you And she jumpscares you by swinging down from the ceiling and choking you.
//*Trivia//*
Nightmare Snowstruck is the only version of snowstruck that kills you.
Even though she doesn't kill the night guard Foxy still loves her Evil or Not
Snowstruck's jumpscare in fnaf4 is similar to mangle's and old bonnies because Mangle and Nightstruckboth come from the ceiling and Old bonnie and Nightstruck choke/strangle you.
Ad blocker interference detected!
Wikia is a free-to-use site that makes money from advertising. We have a modified experience for viewers using ad blockers

Wikia is not accessible if you've made further modifications. Remove the custom ad blocker rule(s) and the page will load as expected.