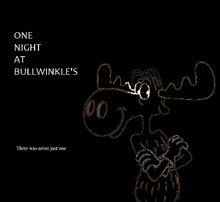 One Night At Bullwinkle's is a fan game by Kingsman Gaming
Plot
Two years after Bullwinkle's restaurant closed down, night guard Tommy Fitzgerald has gotten a job to do a night shift in the restaurant for one night. He must survive this night or else, he will be destroyed by Bullwinkle.
Starring
Bullwinkle The Moose (Copyright belongs to Bullwinkle Studios)
Ad blocker interference detected!
Wikia is a free-to-use site that makes money from advertising. We have a modified experience for viewers using ad blockers

Wikia is not accessible if you've made further modifications. Remove the custom ad blocker rule(s) and the page will load as expected.