Ad blocker interference detected!
Wikia is a free-to-use site that makes money from advertising. We have a modified experience for viewers using ad blockers

Wikia is not accessible if you've made further modifications. Remove the custom ad blocker rule(s) and the page will load as expected.
---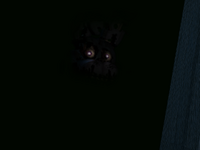 It could be there...
This article is a stub, please fix it by expanding its content, aslong as you have permission from the creator, unless this is your page, then go ahead and edit to your delight!
---
"Now, the animatronics may try throwing you off-track...*chuckles* literally, but you shouldn't quit. Even though you're ten years below minimum wage... um... Try to survive, I guess. I'll see you tomorrow."
-Phone Dude, Night 1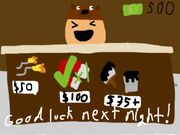 Phone Dude is the person who sends live messages to the player in Five Nights at Freddy's Fun Fair. He also runs the shop.
Appearance
Edit
Phone Dude wears a white V-neck and wears a Freddy hat (which resembles a Micky Mouse cap) during shop hours.
Personality
Edit
Phone Dude is a comedic yet straightforward, night guard.