---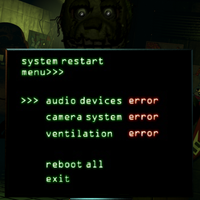 "The systems are in need of rebooting."
This article is a stub. Please help by editing and adding more information to the page. However, you must have permission from the creator of the page, unless you are that said creator, then edit to your heart's intent!
---
"Now, the animatronics may try throwing you off-track...*chuckles* literally, but you shouldn't quit. Even though you're ten years below minimum wage... um... Try to survive, I guess. I'll see you tomorrow."
-Phone Dude, Night 1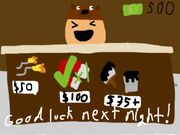 Phone Dude is the person who sends live messages to the player in Five Nights at Freddy's Fun Fair. He also runs the shop.
Appearance
Phone Dude wears a white V-neck and wears a Freddy hat (which resembles a Micky Mouse cap) during shop hours.
Personality
Phone Dude is a comedic yet straightforward, night guard.
Ad blocker interference detected!
Wikia is a free-to-use site that makes money from advertising. We have a modified experience for viewers using ad blockers

Wikia is not accessible if you've made further modifications. Remove the custom ad blocker rule(s) and the page will load as expected.