---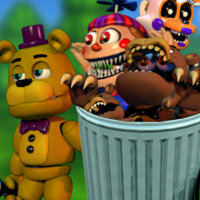 "Fredbear says: To the Halloween Update Backstage you go."
The following page is currently a candidate for deletion. Do not delete this template unless you are an admin or there will be serious consequences. The reason for this deletion is: Could've been cool...But. Needs to die,
---
Rainbow Man is an animatronic canvas, scrapped from an unknown restaurant, presumed to be Freddy Fazbear's in FNAF2. He appears true to his name; his body, arms, and legs make up the colors of a rainbow. His head is white, decorate with red stains of blood.
Backstory
Rainbow Man was a scrapped remodel of an animatronic, eventually left as a paint canvas for kids. He was taken away to the Inventory for murdering a human in the middle of the night. Eventually, two women walked into the Inventory itself, years later. Craving blood, he enslaved the two and them his proxies. RM tried to destroy everything in his way, until his proxies got infected with The Manifestation in Cutting Crew: Deuce Ex Machina. Making an alliance with the Cutting Crew, RM became a mercenary and got his proxies infused together, thus creating Ao Lásame.
Behavior
In FNATInvent2, he moves on Night 6. Nothing can stop him except doors and the Tazer, so one must be ready for him when he approaches the doorways. Once warded off once, he will attack again, in rapid succession until giving up an hour later. He moves randomly from there, appearing anywhere, anytime.His jumpscare is him revealing a jaw and biting your head off.
Personality
RM, contrary to his name, is not a nice animatronic, nor is he evil; he just is selfish and wants control over people and animatronics, hence his proxies, A and O. He seems to have an honorbound side though, however, it never shows. When his alliance with the CC came to be, he seemed to be more compassionate and noble, but still with selfish tendencies.
Special Relations
Golden Lindsay- The two worked together before RM betrayed him; now the two are mortal enemies.
Top Chef-He finds his unsophisticated mass killings unprofessional, but uses him as a minion.
Spanish Marcher-The two have respect for one another, but will fight to the death if they ever met.
Deadbear- Deadbear used to respect him, but hated him after his alliance. He doesn't seem to show emotion to him.
Phantoms\Hallucinations\Etc.
A picture of RM's jaw occasionally appears after death, even if not by him.
RM is sometimes seen in FNATInvent2 with chains around his arms, body, and neck, a refrence to his scrapping.
Appearances
-In Cutting Crew: A Hard Act To Follow and Five Nights At The Inventory 2 as the main antagonist.
-In Cutting Crew: Deuce Ex Machina, as a sort of villian-turned hero.
Trivia
-Rainbow Man seems to have some kind of past with Alex, as he mentions him when talking about his old job as a canvas.
-He calls his katana "The Pathway Of Blood", a nod to his killings.
-Numerous assassination attempts have been attempted on RM, and his proxies have been freed a number of times, but always brought back. Contrary to believe, he really cares about the proxies, even going as far as stuffing one into the other.
-He actually has a jaw, but never moves it when speaking. His head opens up to reveal sharp teeth, however.
Quotes
"So I keep two women for my blood lust. I assume you aren't as a good a person as me either. Now, time to die."-On his proxies.
"If I was God, I'd still want to kill more...."
"Now, now, let's not be enemies here. I have a favor of you, and maybe I can help your friends in the process." -From an upcoming game.
"I never had to impress anyone, Deadbear. You think I'm weak, but I haven't changed. I still do what I believe benefits me most. And that, is to do good."
Ad blocker interference detected!
Wikia is a free-to-use site that makes money from advertising. We have a modified experience for viewers using ad blockers

Wikia is not accessible if you've made further modifications. Remove the custom ad blocker rule(s) and the page will load as expected.