---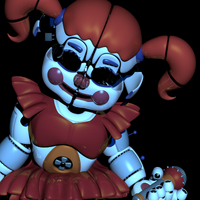 "You have reached Parts and Services."
The following page is currently under construction. That means some things featured may not be final and will be edited in future. This could also mean you can request ideas in the comments or edit the page if allowed. However, it's best to ask to edit the page, or check if the page has a "public" template.
---
"Social life? There is no other life, but the one I need to have with my sisters."
Rosette Kingsland is the older sister of Amity and Lindsay, and a trusted operative/detective of the CIA. She appears with a maroon uniform, with a belt with her weapons and tools attached, and pink hair. She debuts in A Night In Paradise.
Backstory
Born in 1976, August 14th, Rosette is the oldest of the Kingslands, and as such, she had the most time between being born and slowly seeing her father turn against her own sisters and herself. She saw herself as a guardian to her sisters and mother, whose abuse left her of weak mind, and often she stood up against him.
When the house burned down, Rosette focused on re-uniting her shattered family: She got a small job as intern to a long-time cop, of which she admired greatly. He died however, at Freddy's during an investigation, so Rosette finally came to be a detective, working on the side to figure where her mother and sisters were.
In finding Amity at her apartment, she found an ally to help her find her mother, who was about to commit suicide in a crappy New York motel. Once she was all finished in her work, she came to love finding out mysteries, so she got a job at the CIA, and the rest is history.
Personality
Rosette tends to be a good figure to look up to: Strong, a good leader, determined, but not much people or animatronics want to be friends with her. She doesn't really care though: All she cares about is family, and keeping it together.
Relationships
Ninja Nobi-They don't know it, but they were great friends once at a restaurant like Freddy's that Lindsay went to one time: But, Nobi was scrapped that day, so the two barely remember each other.
Appearances
Trivia
WIP
Ad blocker interference detected!
Wikia is a free-to-use site that makes money from advertising. We have a modified experience for viewers using ad blockers

Wikia is not accessible if you've made further modifications. Remove the custom ad blocker rule(s) and the page will load as expected.